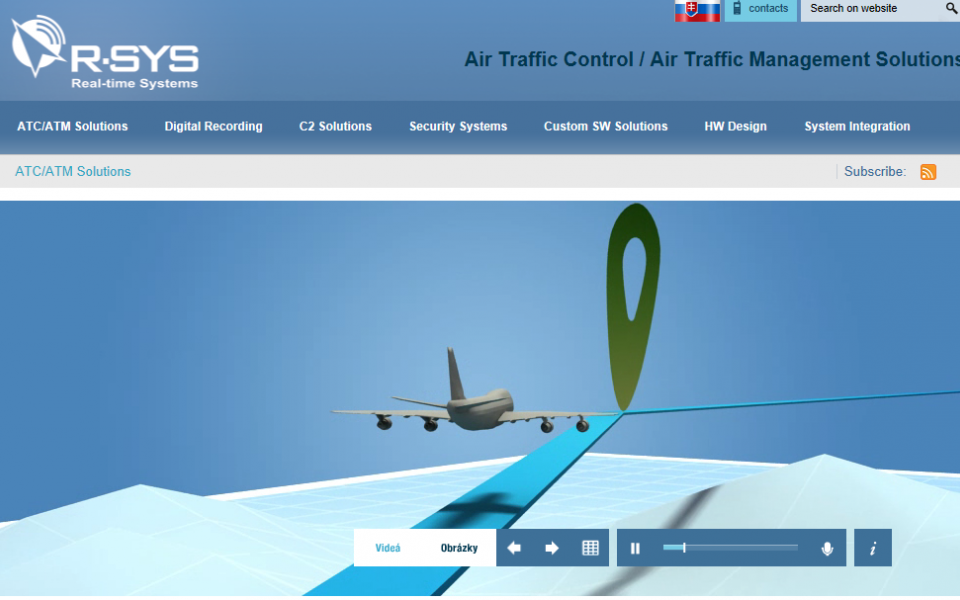 ERA has become the majority owner of the company R-SYS, the producer of SW solutions for ATC/ATM systems
ERA vstoupila do společnosti R-SYS. Obohatí své portfolio produktů o systémy pro záznam, zpracování a zobrazení letových informací
ERA Company made the announcement today that it had purchased the majority share (i. e. controlling interest) in the Slovak R&D company R-SYS, Ltd., its former subcontractor. ERA thus continues the process of acquisition of progressive companies in order to strengthen its market offerings with more complete solutions for civil and military air traffic control authorities.
"The merge of R-SYS and ERA is a result of long-term satisfactory cooperation between both companies. Our planned collaboration in the field of developing ATM and Command and Control systems conveniently completes the ERA product portfolio. ERA´s surveillance systems, integrated with our software for 2D/3D visualization, can provide integrated ATM solutions for customers worldwide," stated Marek Náhlík, R-SYS CEO."
R-SYS product line consists of SW solutions in various domains such as Air Traffic Management, Surveillance Data Processing, Aeronautical Information Management, Command and Control (C2/C3I), Geographical Information Systems (GIS) or Digital Audio, Video & Data Recording Systems. Its new innovative system AISWeb provides flexible tools for 2D/3D visualization of the aircraft positions available to ATC controllers.
Displays and SW solutions by R-SYS in the role of subcontractor demonstrated their quality in several joint projects. ERA is therefore convinced that the future synergy of products and the cooperation of their R&D teams will bring modern solutions to the market. R-SYS, in contrast, will profit from the coordination of sales activities and ERA´s marketing experiences abroad.
On the company R-SYS
Based in Slovakia, R-SYS Ltd. is a middle-sized private company engaged in the development and production of innovative IT solutions for aerospace, defence and the security sectors of the economy. The company was founded in 1997 by a group of experts with skills and experience in command & control systems and radar technology. R-SYS has followed new trends and market requirements, particularly in the area of customized software & hardware solutions and system integration.
Společnost ERA pokračuje v nákupu firem, jejichž výrobky ji umožní dodávat ucelené systémy pro řízení letového provozu. Koupila rozhodující podíl ve slovenské společnosti R-SYS, s. r. o., která ji dosud dodávala softwarové řešení pro vizualizaci informací o poloze letadel.
ERA v loňském roce vykázala obrat kolem miliardy korun a rozhodla se část z 300 milionů korun zisku investovat. Svým zákazníkům by ráda nabídla komplexnější řešení než jen senzory pro sledování polohy letadel na zemi či ve vzdušném prostoru, například systémy pro kontrolu a řízení letového provozu, zobrazovací systémy pro kontrolní věže apod. Majetkový vstup do firmy R-SYS je proto logickým krokem pro její další rozvoj.
"ERA pokračuje v expanzi a naplňování hesla "více než senzory" a po akvizici firmy C.D.K.K. Real a založení dceřiné společnosti ERA BHC CS získala většinový podíl ve firmě R-SYS. Tím si zaokrouhlí nabídku pro zákazníky o dosud chybějící části systémů zajišťujících bezpečnost letecké dopravy," řekl k této investici Viktor Sotona, generální ředitel ERA.
ERA potřebuje moderní zobrazovací systém, který by dokázal data o poloze letadel z jejích senzorů převést na obrazovou informaci srozumitelnou řídícím letového provozu. Displeje a softwarová řešení firmy R-SYS coby subdodavatele se dosud osvědčily při několika společných zakázkách. ERA věří, že synergie produktů a spolupráce zkušených vývojových týmů přinese na trh nové inovativní řešení.
R-SYS si od technologického propojení společností, koordinace obchodních aktivit a využití marketingových zkušeností ERA ve světě slibuje uplatnění svých výrobků na zahraničních trzích.
"Spojení společnosti R-SYS s ERA je vyústěním dlouholeté spolupráce obou firem. Výsledky našeho vývoje v oblasti systémů pro civilní řízení letového provozu, ale i vojenských systémů velení a řízení vhodně doplní produktové portfolio firmy ERA zaměřené na sledovací systémy, a umožní nabízet komplexní ATM (air traffic management) řešení zákazníkům po celém světě," uvedl Marek Náhlík, generální ředitel společnosti R-SYS."
Firma R-SYS, založená v roce 1997, se zaměřuje na vývoj systému pro 2D/3D vizualizaci leteckých informací, systémy řízení letového provozu na různých úrovních včetně letišť, systémy pro předletovou přípravu a plánování letů a systémy pro plánování rozmístění technických prostředků například při vojenských misích. V současnosti testuje nový systém objektivního záznamu a přehrávání dat optimalizovaný pro práci vyšetřovatelů bezpečnosti řízení letového provozu.