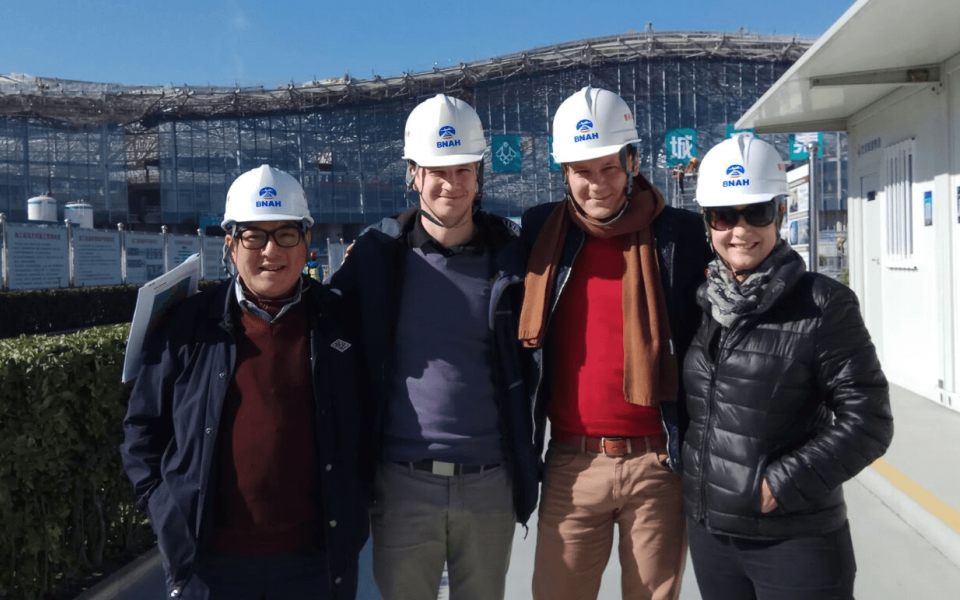 Comeback to Beijing. ERA has signed a contract for the planned largest airport in the world
ERA se vrací do Pekingu. Podepsala kontrakt pro největší letiště světa
ERA won the international tender and will supply and install its surveillance system at the "meant to be largest" airport in the world in Beijing. The airport is located in the Beijing southern quarter of Daxing and due to go operational in 2019. It supposed to have six runways and a capacity of 130 million passengers per year. ERA has been selected by Chinese CAA as a well-established partner with an excellent reputation. ERA systems prepared the capital for the 2008 Olympics a decade ago.
ERA installed its tried and tested multi-sensor system for surface surveillance and parallel runway monitoring at Beijing Capital International Airport in 2007 and remarkably increased the airport's throughput and safety for the thousands of visitors of the summer 2008 Olympics. Over the following years, ERA delivered three more systems to Chinese airports in Shanghai, Changsha and Zhengzhou. The fifth project in a row is the brand new airport Daxing - the Chinese government's infrastructure priority. It is supposed to open in October 2019 as part of the official celebrations for the 70th anniversary of the founding of the People's Republic of China.
"I consider it an immense success for our company. ERA proved to be a reliable partner delivering, always up-to-date, technologies and thus Chinese CAA put its trust in us once more. On a personal level I feel special about the projects in China as important milestones in my own career. I was responsible for the Olympics project as sales manager and now I am back in Beijing signing an even more challenging contract in the role of ERA CEO," stated Viktor Sotona.
Beijing is home to the Beijing Capital International Airport which has rapidly ascended in the rankings of the world's busiest airports over the past decade. It has become the busiest airport in Asia in terms of passenger traffic and total traffic movement, and the second busiest airport in the world only after Atlanta airport, U.S.
Although the large increase could not be met by improvements alone, so as to accommodate the growing traffic volume, Chinese ANSPs have emphasized the need to add the enormous new airport in Daxing. Its capacity of 130 million passengers a year is based on the 10 percentage rate of the Chinese population which is currently 1.4 billion.
To help the make the future traffic movement flawless, ERA will deliver its NEO by ERA multi-sensor surveillance system consisting of 47 ground stations. The fourth generation of the certified mature system MSS is a composite solution of multilateration and ADS-B, has a robust system design, enhanced signal detection, reduced power consumption and is international standards compliant, with an added special certification for China recently obtained.
ERA zvítězila v mezinárodním tendru na dodávku přehledového systému pro plánované největší letiště na světě, které bude otevřeno 2019 v pekingské čtvrti Daxing. Bude mít šest vzletových drah a kapacitu 130 milionů cestujících ročně. ERA byla vybrána jako osvědčený partner čínského řízení letového provozu – před deseti lety připravila hlavní město Číny na olympijské hry.
V roce 2007 uvedla ERA do provozu svůj přehledový systém na mezinárodním letišti v Pekingu, čímž se zvýšila jeho propustnost a bezpečnost pro tisíce návštěvníků OH Peking 2008. Za uplynulou dekádu pak dodala do Číny další tři systémy – na letiště ve městech Šanghaj, Changsha a Zhengzhou. Páté v řadě, nové letiště Daxing je prioritním projektem čínské vlády pro zvýšení kapacity letecké dopravy v této nejlidnatější zemi světa. Jeho otevření je plánováno v říjnu 2019 – k 70. výročí vzniku Čínské lidové republiky vyhlášené 1. října 1949.
"Pro ERA je to obrovský úspěch, protože se svým řešením nezklamala, a po 10 letech tak obhájila svůj post dodavatele velmi spolehlivé technologie. Čína je pro nás významný zákazník a pro mne osobně představují čínské zakázky milníky v kariéře – první systém jsem do Pekingu prodal jako řadový obchodník, nyní jsem se sem vrátil podepsat ještě významnější kontrakt jako generální ředitel," uvedl po podpisu smlouvy Viktor Sotona.
Nabídnutý produkt NEO sestává ze 47 stanic a je čtvrtou generací plně osvědčeného a certifikovaného multisensorového přehledového systému, jehož data jsou využívána řídícími letového provozu a který již úspěšně funguje v 62 zemích světa. ERA navíc disponuje speciální certifikací přímo pro Čínu.
Letiště mající v plánu lámat všechny rekordy bylo pojmenováno Daxing podle stejnojmenné čtvrti na jižním okraji Pekingu a vyroste na ploše 55 km², což je přibližně rozloha Bermudských ostrovů. Schopností odbavit 130 milionů cestujících ročně překoná v součtu dvě hlavní transitní letiště světa, londýnské Heathrow a newyorské JFK, kterými dohromady projde "jen" 107 milionů pasažérů. Současné pekingské letiště Beijing Capital International Airport, ležící na severním okraji města, je se 74 miliony pasažéry za rok druhým nejrušnějším letištěm světa po americké Atlantě. Kapacita letiště Daxing vychází z 10%ho poměru k čínské populaci, která loni činila cca 1,4 miliardy obyvatel.