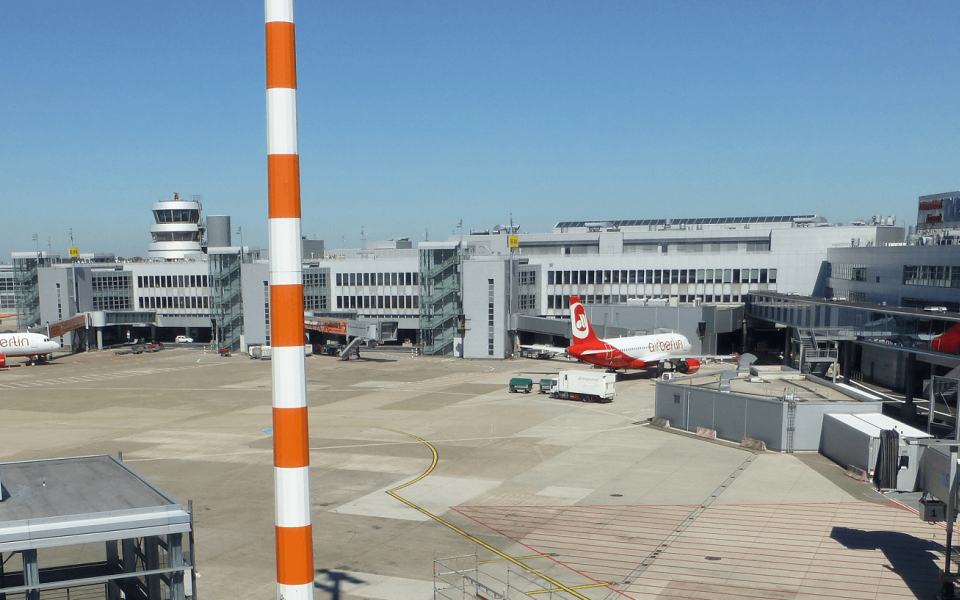 Düsseldorf Airport deploys 120 ERA SQUID vehicle tracking units for surface management
Vysílače SQUID společnosti ERA zvýší bezpečnost provozu na letišti v Düsseldorfu
Düsseldorf Airport (DUS) recently announced the selection of Czech Republic-based ERA a.s., the leading supplier of safety, surveillance and flight tracking equipment worldwide, to supply 120 vehicle-mounted SQUID transmitters as its surface vehicle tracking system. The contract was awarded to ERA after winning the tendering process in June 2017. ERA is pleased to add Düsseldorf Airport to its growing list of 50 SQUID partners.
DUS evaluated all market vehicle tracking products, focusing mainly on reliability and automatic dependent surveillance-broadcast (ADS-B) transmitting capabilities. DUS selected ERA's squitter beacon SQUID system as the best performing vehicle location technology among all the suppliers.
"SQUID by ERA proved to be the best product for our requirements. We are aware the SQUID transmitter is extremely reliable under all weather conditions," stated C. Thyssen from DUS.
The ERA-designed SQUID self-contained vehicle tracking unit improves airport safety by continuously broadcasting the exact position of all ground vehicles, including tugs, de-icing equipment, and fire and rescue vehicles. By using permanently mounted or portable ADS-B squitter beacon transmitters, SQUID minimizes the risk of safety vehicle collisions, especially during low visibility conditions.
There are now ca 6500 SQUIDs in use at several dozen airports on all continents. The success of this system is also shown by its history of flawless operations at some of the busiest airports around the world, including London Heathrow, Amsterdam Schiphol, Moscow Domodedovo, Montreal or Singapore.
ERA Managing Director Viktor Sotona comments as follows: "We are proud that our SQUID system has won the tender for this important German airport, i. e. in a country, where only the most highly-rated technologies can successfully compete in such a demanding local environment. ERA already has its technologies installed at several other airports there, in Munich, Frankfurt, Hamburg, Nuremberg, Braunschweig, Köln, Bonn and Berlin. We hope to be selected again to provide our products to other airports in Germany."
The trust placed in this particular ERA product by these airports and others worldwide, is further demonstrated by the fact that SQUID installations predominate over their competitors. As an important part of every advanced surface movement guidance and control system (A-SMGCS), SQUID improves overall situational awareness and safety. ERA also integrates cooperative surveillance technologies, such as multilateration (MLAT) and ADS-B into the airport's A-SMGCS infrastructure. This gives controllers superior coverage and reliability, more precise vehicle identification, and increased weather resilience when compared to surface movement radar (SMR) alone.
Düsseldorf Airport is the largest and primary airport for the Rhine-Ruhr metropolitan region – the largest industrial region in Germany and among the largest metropolitan areas in the world. With 23.5 million passengers in 2016, the airport was the third busiest in Germany, after Frankfurt Airport and Munich Airport, and was the 19th busiest airport in Europe.
Pardubická firma ERA a.s. zvítězila v tendru na dodání 120 kusů vysílačů, které pomohou řídit pohyb vozidel na letišti v Düsseldorfu. Düsseldorf je již desáté německé letiště, které používá ERA technologie pro vylepšení bezpečnosti letového provozu.
"Výhra v tendru na dodávku SQUIDů pro Düsseldorf není zdaleka první úspěch, který s leteckými technologiemi u našeho souseda máme – výrobky ERA používají také letiště v Mnichově, Frankfurtu, Hamburgu, Norimberku, Brémách, Braunschweigu, Kolíně, Bonnu a Berlíně. Každá zakázka pro Německo nás velmi těší, protože v této zemi mohou uspět jen špičkové technologie, mezi které vysílače SQUID bezpochyby patří," řekl generální ředitel ERA Viktor Sotona.
Vysílač je vlastním vynálezem společnosti, který se osvědčil již na padesáti světových letištích všech kontinentů včetně těch nejvytíženějších, například v Amsterdamu, Londýně, Frankfurtu, Moskvě, Montrealu či v Singapuru. Od roku 2004 firma prodala již cca 6500 těchto majáčků.
Vysílače SQUID výrazně vylepšují bezpečnost pozemního provozu na letištích. Jsou umístěny jako majáčky na střechách všech vozidel, která se pohybují v areálu letiště (například vozíky se zavazadly, záchranná a požární vozidla nebo pluhy pro úklid sněhu) a vysílají informace o jejich přesné poloze. Tím napomáhají snížit na minimum riziko střetu těchto vozidel navzájem či s rolujícími letadly, které roste za snížené viditelnosti a se stále se zahušťujícím provozem na největších světových letištích.
"Firma ERA vyhrála tendr na dodávku vysílačů pro naše letiště, protože nejlépe splnila zadaná kritéria poptávky. Vysílač SQUID nabídl přesně ty vlastnosti, které jsme od tohoto systému očekávali, například perfektní spolehlivost při poskytování dat o poloze vozidel při zhoršených povětrnostních podmínkách " řekl Christoph Thyssen, zástupce mezinárodního letiště v Düsseldorfu.
Letiště Düsseldorf je hlavním letištěm pro průmyslovou oblast Porýní - Porúří, jednu z největších průmyslových aglomerací světa, kde se koncentruje většina těžkého průmyslu Spolkové republiky Německo. Letiště v minulém roce odbavilo 23,5 milionu cestujících, což z něj statisticky dělá třetí nejvytíženější letiště v SRN a 19. nejdůležitější letecký uzel v celé Evropě.