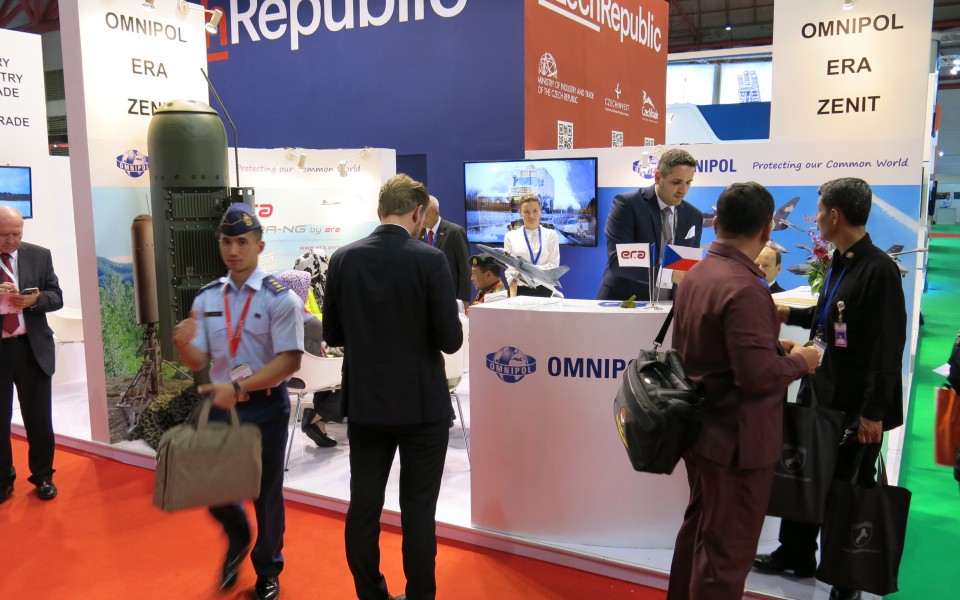 ERA and OMNIPOL exhibited at Indodefence fair in Jakarta
ERA a OMNIPOL společně vystavovali na výstavě Indodefence v Jakartě
International defence and aviation exhibition Indodefence took place in Jakarta, Indonesia, on November 2 – 5, 2016. ERA participated in the exhibition as a part of Czech official exposition with its parent company OMNIPOL. ERA introduced its unique passive surveillance system VERA-NG to many distinguished visitors including Jusuf Kalla, vice-president of the Republic Of Indonesia, and Ryamizard Ryacudu, the Minister of National Defence of Indonesia, who both stopped at the Czech stand and payed attention to passive systems by ERA.
Representatives of ERA and OMNIPOL had also the opportunity to conduct negotiations with several other national delegations. The accompanying program consisted also of conferences of aerospace professionals, which were focused on air space safety a novelties in aviation and maritime industries.
Indodefence fair has returned to the Indonesian capital city after two years. The biggest event in Asia-Pacific region attracted over 25,000 visitors and more than 750 exhibitors from 55 countries; remarkable companies from 30 countries such as Airbus, Saab or Lockheed Martin had their own stands. Apart from the Czech Republic there were also exhibitors from Slovakia, Germany, India, Australia, South Korea, the United States, Russia, etc.
Po dvou letech se do indonéské metropole vrátila obranná a letecká výstava Indodefence, která tentokrát proběhla od 2. do 5. listopadu. ERA a OMNIPOL se zúčastnili výstavy prostřednictvím české expozice a zařadili se tak po bok známých značek, jako například Airbus, SAAB nebo Lockheed Martin. Jejich stánek jako jeden z mála navštívil také vice prezident Indonésie Jusuf Kalla a živě se zajímal o pasivní systémy, především unikátní sledovací systém VERA-NG.
Zástupci obou firem měli dále možnost vést jednání s několika národními delegacemi. Mezi významné návštěvníky stánku České Republiky patřil například ministr národní obrany Indonésie Ryamizard Ryacudu.
Největší akci regionu jihovýchodní Asie navštívilo přes 25 000 návštěvníků, zúčastnilo se více než 750 vystavovatelů z 55 zemí světa a 30 zemí zde mělo svou vlastní expozici. Kromě samotného veletrhu se v rámci doprovodného programu konalo několik odborných konferencí, které se věnovaly nejen bezpečnosti, ale také novinkám v technologiích nabízených armádním složkám letectva a námořnictva. Kromě České republiky se zúčastnilo například Slovensko, Německo, Indie, Austrálie, Jižní Korea, USA nebo Rusko.