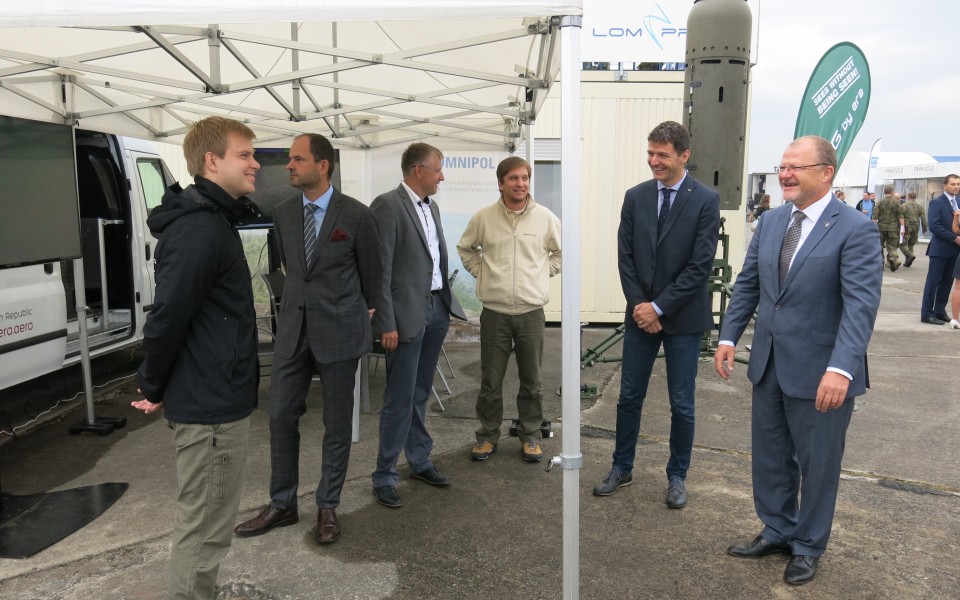 ERA Has Attended the NATO Days Air Show
ERA předvedla svůj unikátní systém VERA-NG na akci Dny NATO v Ostravě
ERA along with its parent company OMNIPOL have become the main partner for the largest security show in Europe - NATO Days & Czech Air Force Days. The event was held at Leos Janacek Airport in Ostrava on September 17 – 18, 2016.
Important defence and security companies such as Saab, Aero Vodochody, LOM Praha, Bell Helicopter, etc. also took part of the event and demonstrate their products delivered to the Czech Armed Forces and other security bodies. ERA presented its military surveillance and reconnaissance system - Passive ESM Tracker VERA-NG. There was also the live demo of multilateration system. The results of the surveillance of aircraft were displayed on screen at ERA stand.
The main programme consists of presentation of heavy military hardware, police and rescue equipment, dynamic displays of Special Forces' training, flying displays and presentations of armaments, equipment and gear of individual units. To name just a few: Eurofighter Typhoon, JAS 39 – Gripen, L-39, F-16 Zeus, The Tigers Parachute Team, the Czech Police and Jordanian Female Unit rescuing of hijacked plane, Aerobatic Group Frecce Tricolori, MiG-21, Bo-105, Titus and Tatra, and many more.
Regular distinguished guests include representatives of the Czech government, NATO and the European Union, representatives of regions, municipalities, ambassadors, military attachés - from the Czech Republic and from foreign countries, especially from Europe and the USA. The special national partner for this year became Germany. Among VIP guests were present the Czech Prime Minister Bohuslav Sobotka, first lady Ivana Zemanová, the Minister of Defence of the Czech Republic Martin Stropnický and the head of the Chamber of Deputies of the Parliament Jan Hamáček.
ERA together with its most recent partner, the Swedish company Saab Technologies, organized a press event and toast celebrating the partnership between Saab and ERA and their joint bid in tender for 3D Mobile Air Defence Radars (MADR) for the Czech Republic. A major strength of the offer is Industrial cooperation. Their agreement also involves a strategic partnership regarding the research and development of active and passive Air Surveillance systems to be used in Air Defence solutions, which would have significant export potential.
"We offer to the Czech Ministry of Defence our new radar Giraffe 4A which is the latest one of Giraffe family products by Saab with full in-heritage of radar software and hardware modules from our best in class AD radar. Regarding our joint bid for MADR it is envisaged that ERA would integrate the system with the customer, the Czech Armed Forces, and provide on-going logistical support. The work-share will be in the area of technology transfer and joint R&D of the future active and passive sensors. This will be a gradually growing co-operation thanks to synergies of R&D activities and long term engagement of Saab in this country," officially stated Krasimira Stoyanova, head of Saab in Central Europe.
NATO Days is the only event that brings together the technology used by soldiers, fire fighters, policemen, customs officers, the prison service, the municipal police and others in one location and its key challenge is to present a wide spectrum of resources along with the capabilities of the Czech Republic and its allies in the field of security provision to the general public. NATO Days & Czech Air Force Days are also the most visited two-day family event in the Czech Republic, this year attendance was 160 thousands of visitors.
Třetí zářijový víkend se ERA spolu s mateřskou společností OMNIPOL představila na Dnech NATO v Ostravě. 16. ročník Dnů NATO spolu s 7. Dny Vzdušných sil AČR se uskutečnil na letišti Leoše Janáčka v Mošnove.
Hlavní program sestával z prezentací armád, policie, záchranářů, speciálních jednotek, letectva a jejich výzbroje a výstroje. Návštěvníci mohli obdivovat mezi jiným průlety strojů Eurofighter Typhoon, JAS 39 – Gripen, L-39, F-16 Zeus, MiG-21, Bo-105, vystoupení parašutistů Tigers Parachute Team, záchranu uneseného letadla Jordánskou ženskou vojenskou jednotkou ve spolupráci s Policií České republiky, italskou akrobatickou skupinu Frecce Tricolori, off-road jízdy vozů Titus a Tatra a mnoho dalšího.
Při této příležitosti také významným hostům ve VIP zóně firmy jako Saab, AERO VODOCHODY, LOM PRAHA, Bell Helicopter a další předvedli své výrobky, které obranné a bezpečnostní organizace používají. ERA a OMNIPOL měly na akci vlastní ground box a venkovní stanoviště, kde představily pasivně radiolokační identifikační systém VERA-NG a živou ukázku sledování letového provozu pomocí technologie multilaterace. Výsledky trackování letadel si návštěvníci mohli prohlédnout na velkoplošné obrazovce díky přítomnosti ERA demonstrátoru Tichý strážce.
Mezi pravidelné významné hosty akce patří také členové české vlády, představitelé NATO a Evropské unie, velvyslanci, vojenští přidělenci a další hosté nejen z České republiky, ale ve vzrůstající míře také ze zahraničí, zvláště z Evropy a Spojených států. Národním partnerem letošního ročníku přehlídky byla Spolková republika Německo. Mezi nejprominentnější VIP hosty letos patřili premiér Bohuslav Sobotka, první dáma Ivana Zemanová, ministr obrany Martin Stropnický a předseda české poslanecké sněmovny Jan Hamáček.
Švédský SAAB a jeho český strategický partner ERA, kteří společně podali přihlášku do tendru na nákup radiolokátoru MADR pro českou armádu, si v rámci Dnů NATO 2016 v Ostravě potvrdili, že jejich partnerství představuje výbornou příležitost nejen pro prohloubení vzájemné spolupráce mezi Švédskem a Českou republikou, ale také pro budování nových evropských obranných kapacit a společný výzkum a vývoj obou firem.
"Nabízíme technické řešení plně vyhovující podmínkám zadání českého ministerstva obrany, které je postaveno na moderním sledovacím systému Giraffe G4A. Naše partnerství s českým obranným průmyslem zahrnuje výrobu, údržbu, ale i výzkum a vývoj a právě díky spolupráci s ERA bude švédský radar plně integrován do českého systému velení a řízení protivzdušné obrany státu," uvedla při této příležitosti ředitelka pro střední Evropu ve společnosti SAAB, Krasimira Stoyanova.
Plnohodnotná průmyslová spolupráce SAAB a ERA by českému průmyslu přinesla silný potenciál přidané hodnoty znalostní ekonomiky včetně dlouhodobého rozvoje vysoce kvalifikované pracovní síly na území České republiky. Podle Krasimiry Stojanovové je dokladem toho, že společnost SAAB vždy plní své partnerské závazky v oblasti industriální spolupráce, i velmi úspěšný offsetový program zaměřený na podporu českého průmyslu jako doprovodné aktivum při pronájmu nadzvukových letounů JAS 39 - Gripen.
Dny NATO jsou výjimečnou akcí, která představí na malé ploše jindy neviděné vybavení vojáků, policistů, hasičů, celníků či vězeňské služby. Cílem akce je předvést veřejnosti na jednom místě co nejširší spektrum zdrojů a kapacit České republiky a jejích spojenců v oblasti obranných technologií. NATO Days & Dny českých ozbrojených sil jsou zároveň nejnavštěvovanější rodinnou víkendovou akcí v České republice, letos letiště v Mošnově přivítalo 160 tisíc návštěvníků.