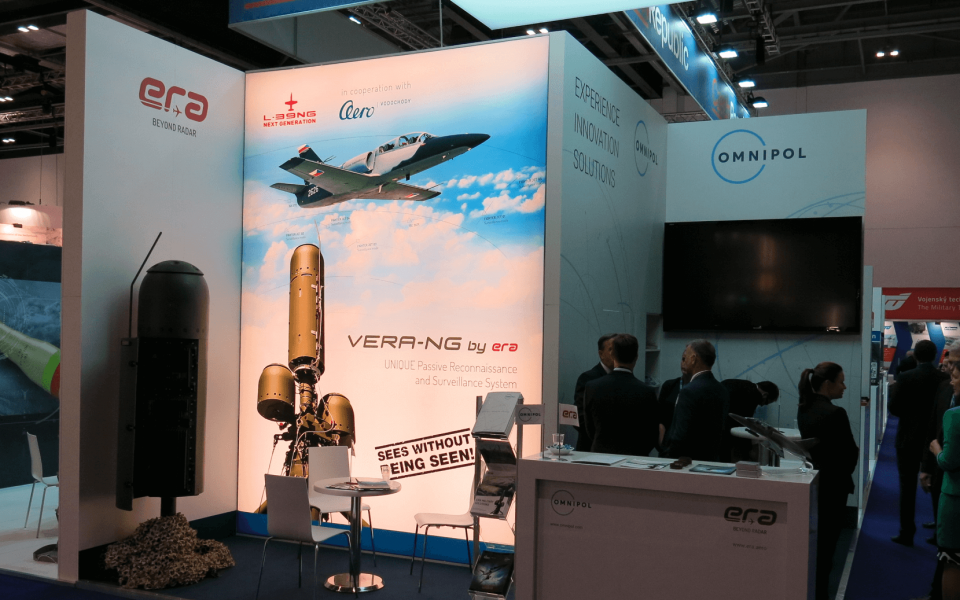 ERA has exhibited at DSEI 2017 in London
ERA vystavovala na DSEI 2017 v Londýně
ERA in collaboration with its parent company OMNIPOL have attended the trade fair Defence and Security Equipment International (DSEI) 2017, the world's leading defence & security event, held at the London ExCeL exhibition centre in London, UK.
ERA has presented its VERA-NG passive surveillance system, which is a state-of-the-art technology providing a unique combination of real time high accurate 3D positioning of airborne and naval targets as well as ELINT capability representing emitters' reconnaissance.
ERA has introduced key challenges at the event in current air defence and passive technology with the use of their product VERA-NG which address these aspects. Apart from significant interest in the technology from potential customers and partners, the exhibition confirmed the increasing interest in passive surveillance systems generally.
Nejvýznamnější letošní výstavní akce v oblasti vojenské techniky v Evropě, veletrh Defence and Security International (DSEI), se konala v britské metropoli od 12. do 15. září.
ERA společně s OMNIPOLem na veletrhu představily pasivní sledovací systém pro protivzdušnou obranu VERA-NG a cvičný letoun L-39NG z Aera Vodochody, na jehož vývoji se OMNIPOL podílí, a zařadili se po bok nejznámějších světových firem v obranném průmyslu.
Zástupci firem se zúčastnili několika jednání, například s malajskou delegací v čele s šéfem ozbrojených sil, generálem Tan Sri Raja Mohamed Affandim a jeho doprovodem. Následovaly schůzky s delegací bangladéšského letectva zastoupenou Chief of Plans a s řadou dalších firem z Pákistánu, Indie, Izraele atd.
"DSEI je jednou z nejdůležitějších akcí svého druhu na světě, takže účast zde považujeme za samozřejmost. Škoda, že se z české strany nezúčastnili žádní vyšší funkcionáři z Ministerstva obrany, resp. Armády České republiky, jak bývá na akcích takového rozsahu a významu obvyklé," zhodnotil akci Jiří Řezáč z OMNIPOLu.
Při společenském koktejlu, který se konal v rámci akce Czech Business Day na stánku České republiky pod záštitou Ministerstva průmyslu a obchodu, bylo možné potkat velvyslance ČR ve Spojeném království Velké Británie a Severního Irska, jeho excelenci Libora Sečku, vedoucího zahraniční kanceláře londýnské pobočky Czech Trade Centra pana Martina Macourka a zástupce MPO pana Vladimíra Bomberoviče.
V rámci doprovodného programu se konalo také několik odborných konferencí, které se věnovaly oblastem obranného a leteckého průmyslu. Výstavu navštívilo mnoho zahraničních delegací, přes 32 tisíc návštěvníků a své produkty prezentovalo více než 1500 vystavovatelů ze 40 zemí světa. Kromě České republiky to bylo například Slovensko, Německo, Indie, Austrálie, Jižní Korea, USA nebo Rusko.