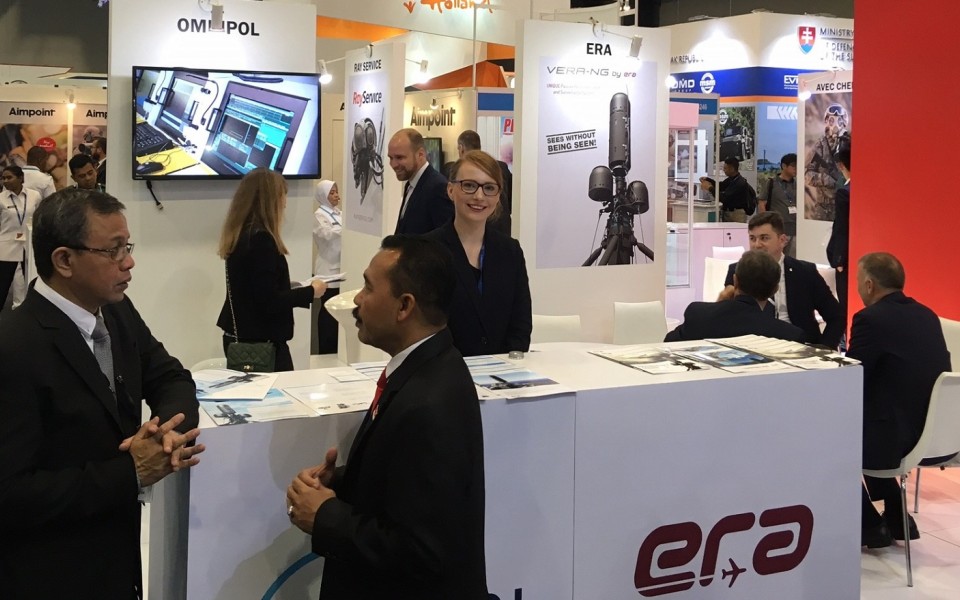 ERA has exhibited at Malaysia's defence exhibition DSA 2018
ERA na výstavě obranných technologií DSA 2018 v Malajsii
On April 16th – 19th ERA and OMNIPOL presented the military systems, namely PET VERA-NG at the16th edition of the exhibition and conference DSA 2018 (Defence Services Asia) in Kuala Lumpur, the capital of Malaysia. Within the event their joined exposition boost has been visited by several VIP delegations.
The exhibition consists of 30 international pavilions attended by more than 350 delegations from 45 countries, 1500 participating companies from 60 states and 43.000 trade visitors form 70 states. Alongside Event: NATSEC Asia 2018 – the International Exhibition on National Security for Asia. The main asset of the shows is to display the world's sophisticated hardware & electronic warfare in land, air & sea defence, battlefield healthcare products/technology, training & simulation systems and police and security peripherals.
Společnosti ERA a OMNIPOL se od 16. do 19. dubna účastní jedné z pěti světově nejvýznamnějších výstav obranných technologií DSA 2018 v hlavním městě Malajsie Kuala Lumpuru. Na společném stánku zástupci obou firem přijímají národní VIP delegace, resp. probíhají zde jednání se zástupci zemí regionu jihovýchodní Asie.
Výstava sestává z třiceti mezinárodních pavilonů obsazených 350 delegacemi ze 45 zemí. Celkem zde vystavuje 1500 firem z 60 zemí a registrovalo se 43 000 návštěvníků ze 70 států. Zároveň probíhá přídavná výstava NATSEC 2018 – Národní bezpečnost pro Asii. Hlavním cílem obou akcí je představit světově vedoucí technologie pro elektronický boj a obranu na zemi, ve vzduchu i na moři, simulační a školicí nástroje, zdravotnický materiál pro polní nemocnice a produkty pro bezpečnostní složky - policii a specializované ochranky.