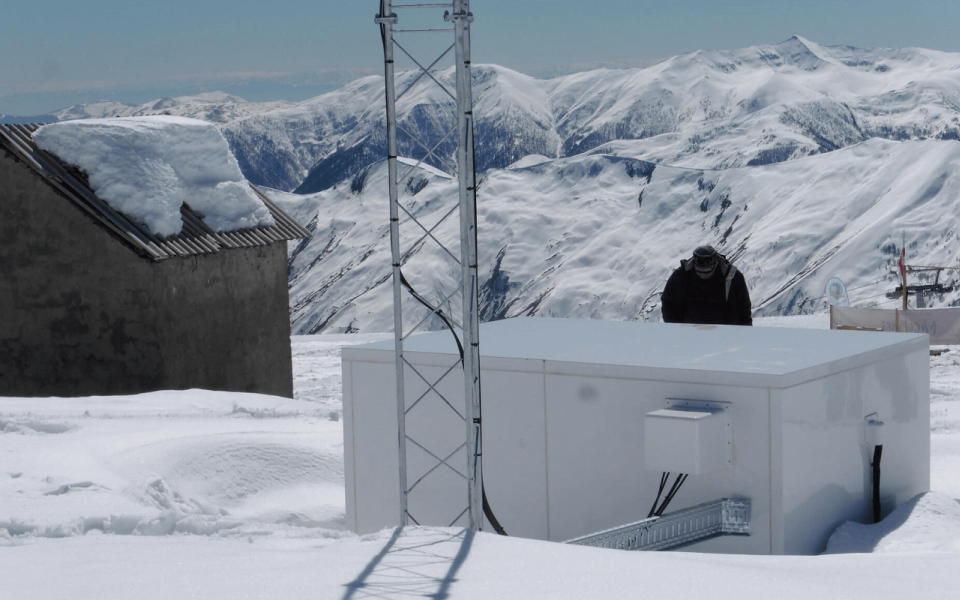 ERA has signed a new contract to provide ADS-B coverage to the eastern part of Georgia
ERA podepsala smlouvu na dodávku systému pro sledování letecké dopravy ve vzdušném prostoru Gruzie
ERA announced the awarding of a contract to deliver an ADS-B system covering a major part of the airspace of Georgia. It will provide another layer of en-route surveillance of an upper flight level from 250 NM.
ERA will supply four double (eight in all) ADS/B Ground Stations and two Central Processing Stations deployed at two major Georgian airports, in the capital Tbilisi and in Kutaisi. The contract was assigned by the local ANSP Sakaeronavigacija in December as the result of a tendering process, which ERA successfully won at the end of 2016.
"SAK Aeronavigacija put its trust in ERA believing that the ADS-B system proposed by ERA will ensure a reliable solution for such a challenging project. We also propose to extend it to the Wide Area Multilateration System," stated Petr Valášek, ERA sales manager.
One of the priorities of Georgia has been to cover their air space with up-to-date technology to provide surveillance coverage for the eastern part of the country. The installation of the ADS-B system is intended first of all improve high flight level coverage for the all domestic and international flights. Due to the mountainous terrain in the country, two of the ground stations are located in an area about 2700 metres above sea level and are equipped with hardware designed for operations under difficult outdoor conditions of the local harsh climate.
In order to meet these challenges, ERA as the primary contractor will deliver its multi sensor surveillance systems. The proposed net of four ADS-B stations will work as part of NEO by ERA: the 4th generation of the certified mature system MSS. It has a robust system design, enhanced signal detection, reduced power consumption and is international standards compliant. ERA will also supply its new ATM system ERIS responsible for integration of flight information from other data sources. The Factory Acceptance Tests of the system should be carried out in the upcoming autumn with installation planned for the spring of 2018.
On ADS-B technology
ADS-B consists of dependent information on data from the aircraft's navigation system. ADS-B equipped aircraft broadcast their GNSS positions once per second. The information received by the ADS-B ground station includes the aircraft's identification, altitude, speed, velocity, etc.
On ERIS – modular ATM system
ERIS consists of the product family of Air Traffic Management systems designed for Air Traffic Control and flight planning of civil and military operations. ERIS is based on a modern sophisticated and modular design that has been developed in compliance with ICAO and EUROCONTROL standards.
About Georgia
Georgia is a country in the Caucasus region of Eurasia, located at the crossroads between Western Asia and Eastern Europe. Georgia is a semi-presidental republic with a population of approximately 3.72 million people.
Pardubická firma ERA získala další zakázku. Vyhrála v tendru na celoúzemní pokrytí vzdušného prostoru východní části Gruzie. Systém osmi ADS-B stanic pracujících s daty z GPS bude zajišťovat sledování domácích i mezinárodních leteckých linek při přeletech nad jejím územím. Tím se počet zemí, kde pardubická firma pomáhá s bezpečností letového provozu, zvýšil na 60. Znamená to další posílení její pozice v postsovětském regionu v oblasti kolem Černého moře, kde již má instalace v ruském Soči, v Moldávii a Ázerbájdžánu.
ERA rozmístí v členitém terénu čtyři dvojité ADS-B pozemní stanice (celkem osm) a dvě centrální budou umístěny na dvou největších gruzínských letištích: v hlavním městě Tbilisi a metropoli Kutaisi. Smlouvu za gruzínskou stranu podepsalo místní řízení letového provozu Sakaeronavigacija po zveřejnění výsledků výběrového řízení koncem minulého roku.
"Sakaeronavigacija nám dala důvěru k instalování systému ADS-B jako další vrstvy přehledového systému, který zvýší bezpečnost letového provozu. Jako další krok navrhujme rozšíření na klasický ERA systém s multilaterací," uvedl obchodní manažer ERA Petr Valášek.
ERA nabídla osvědčené řešení – svůj nedávno nově vylepšený, ekologický systém NEO, resp. jeho funkcionalitu ADS-B založenou na využití satelitní sítě GPS. Navržená konfigurace sítě sestává z osmi pozemních stanic a bude mít za úkol pokrýt vysoké letové hladiny ve východní části země a pomoci tak se sledováním především přeletů en-route od 250 námořních mil. Část pokrytého území zaujímají vysoké hory, proto jsou některé stanice umístěny ve výšce nad 2700 metrů nad mořem a přizpůsobeny k fungování v extrémních klimatických podmínkách. Součástí řešení je i novinka v portfoliu ERA, systém pro zpracování a zobrazení informace o vzdušné situaci ERIS, který bude zodpovědný za integraci letové informace ze všech zdrojů dat.
V prosinci 2016 byla podepsána smlouva, počátkem dubna tým ERA vyjel ověřit příhodné lokality pro umístění sledovacích stanic, instalace je plánována po podzimních testech FAT na jaro 2018.
O ADS-B
Ve srovnání s pozemními radary poskytuje technologie ADS-B (Automatic Dependent Surveillance Broadcast) nový přístup ke sledování letového provozu. Letadlo vybavené ADS-B automaticky vysílá každou sekundu svou přesnou polohu získanou z GPS. ERA nabízí jak samostatné ADS-B přijímací stanice, tak chytré sítě ADS-B stanic s jedním operačním výstupem.
O republice Gruzie
Gruzie je země v kavkazské oblasti na pomezí jihovýchodní Evropy a jihozápadní Asie při východním pobřeží Černého moře. Gruzie získal nezávislost na Sovětském svazu v roce 1991 a v současnosti je to poloprezidentská republika s cca 3,7 miliony obyvatel. V některých jazycích (například anglicky) se Gruzie řekne Georgia nebo Georgie, podle jedné z teorií podle patrona země svatého Jiří (řecky Georgios). Název Gruzie pochází z ruštiny - Gruzija.