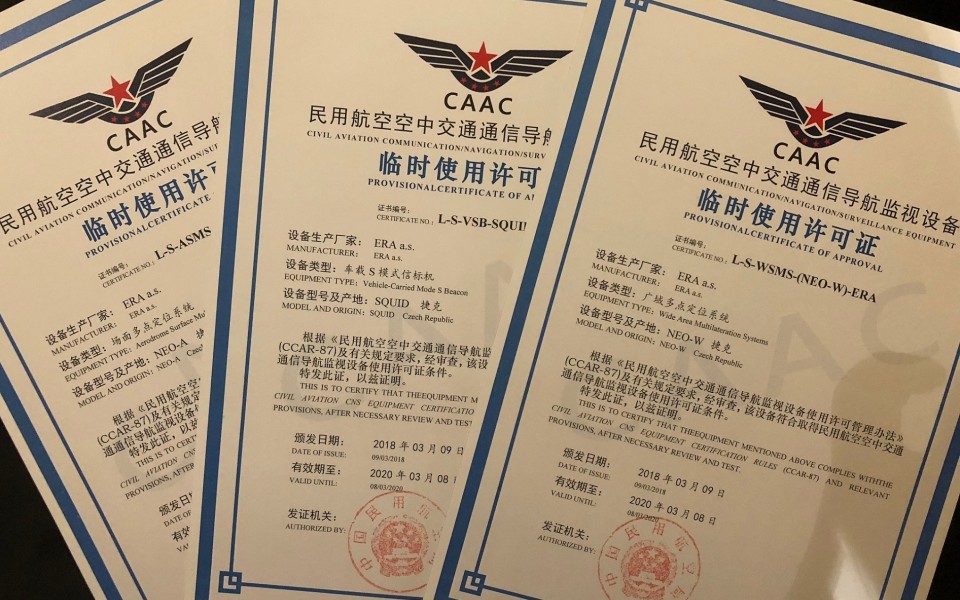 ERA obtained Chinese Permit Certificate as the only foreign manufacturer of multilateration based systems
ERA jako první zahraniční výrobce může dodávat sledovací systémy do Číny. Má na to speciální certifikáty
ERA (a member of OMNIPOL group) is pleased to announce that CAAC China has issued the Permit Certificate which makes the company the only manufacturer with permission to deliver all airport surface, TMA and WAM surveillance systems and in addition vehicle tracking systems to Chinese ANS authorities.
Chinese CAAC has extremely straightforward regulations on what aviation systems can be used at any Chinese airport, stated by a strict process of certification. Only the leading technologies in the world are invited to apply for the Permit Certificate testing and only systems with a Permit Certificate are allowed to be delivered and installed in the country. ERA obtained this certificate at the end of April 2018.
The testing itself was very complicated and sophisticated. The entire process has been managed and approved by a committee of experts - a group of roughly ten specialists from different provinces of China. The certificate was awarded to ERA after a gruelling round of test evaluations consisting of factory tests and in situ tests of the system installed at the airport.
"Throughout the entire Permit Certificate testing process over the last 12 months, we experienced excellent co-operation between Air Traffic Control specialists from the Czech Republic and China," stated Jimmy Chan, the participant of the specialist evaluation meetings.
As a result, ERA is the only manufacturer who is qualified to import multilateration systems and the only supplier who has a Permit Certificate on all ground, TMA and WAM systems. ERA also has the Permit Certificate for SQUID thus being the exclusive certified vendor of vehicle tracking transmitters. In addition, ERA helps CAAC establish standards for the multilateration technology used at Chinese airport as well as set up the Permit Certificate testing procedure in China.
"CAAC China hopes ERA can contribute more to air traffic safety in China in the future," added Luo Ming Ju, the expert of China ATM.
Over the last decade ERA has already delivered four surveillance systems to Chinese airports: in Beijing, Shanghai, Changsha and Zhengzhou. ERA won the international tender last year to supply and install the fifth system at the "meant to be largest" airport in the world in in the Beijing southern quarter of Daxing.
Čínské řízení letového provozu CAAC China vydalo firmě ERA (člen skupiny OMNIPOL) sérii certifikátů, které z ní udělaly prvního a v tuto chvíli jediného oprávněného dodavatele multilateračních přehledových systémů pro řízení letového provozu pro čínská letiště.
Čínská organizace CAAC má velmi striktní pravidla, jaké systémy mohou být využívány k řízení letového provozu na čínských letištích, a podle nich vydává tzv. certifikovaná povolení. Certifikační proces je velmi obtížný a sofistikovaný, trvá řadů měsíců až let, avšak pouze technologie, které tato povolení získají, mohou být nakupovány a v zemi používány. ERA tento certifikát získala jako první zahraniční výrobce po sérii evaluací koncem dubna 2018.
ERA technologie byly opakovaně posuzovány komisí specialistů a podstoupily několik kol testů, včetně praktických zkoušek fungování na letišti. "V průběhu certifikačního procesu panovala mezi čínskými a českými experty na řízení letového provozu skvělá úroveň vzájemné spolupráce, " uvedl Jimmy Chan, účastník hodnotících mítinků.
Ve výsledku je ERA jediným výrobcem, který se kvalifikoval pro dovoz multilateračních systémů do Číny, a to jak systémů pro monitorování letadel ve vzduchu, tak i pohybu servisních vozidel na letištích. Navíc ERA napomohla CAAC ustanovit standardy pro tuto technologii, pravidla pro certifikaci a její použití v Číně. "ERA velmi přispěla ke zlepšení bezpečnosti letového provozu v Číně a CAAC China doufá, že tomu tak bude i nadále," zhodnotil Luo Ming Ju, čínský expert řízení letového provozu.
Během posledních deseti let ERA instalovala své systémy již na čtyřech velkých čínských letištích – v Pekingu, Šanghaji, Changshe and Zhengzhou. Pátou zakázku získala loni pro plánované největší letiště světa ve čtvrti Daxing na jihu Pekingu, které se staví jako druhé letiště v hlavním městě.