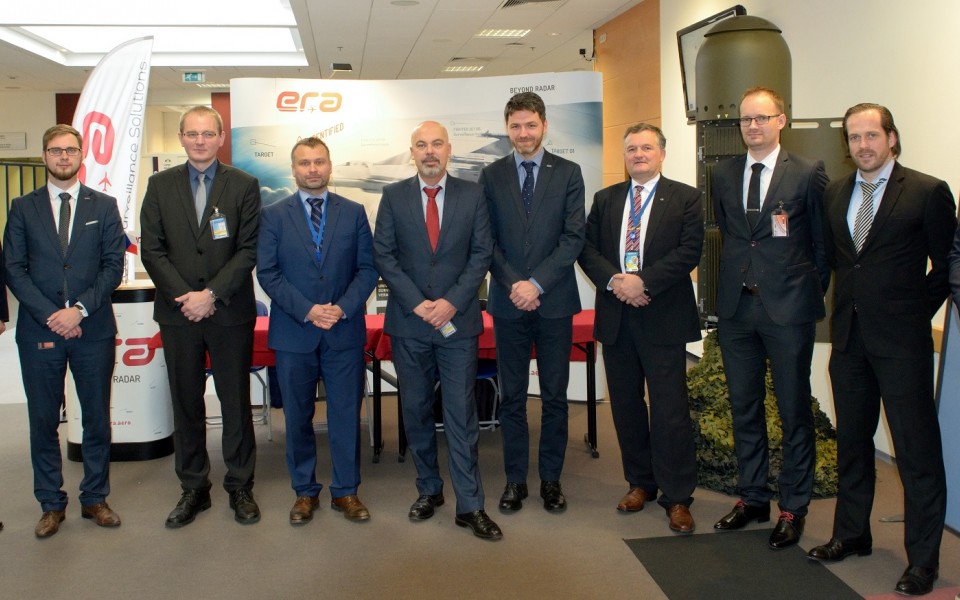 ERA Played Main Role in ISR & EW Capabilities Development Workshop in HQ NATO in Brussels
ERA v hlavní roli workshopu v hlavním štábu NATO v Bruselu
ERA Company, in cooperation with the Czech Armed Forces and the Permanent Delegation of the Czech Republic to NATO, organized ISR & EW workshop in HQ NATO in Brussels, Belgium at the end of November 2017, with the participation of more than 70 guests. The workshop focused on one of the most important capabilities for modern warfare: Intelligence, Surveillance and Reconnaissance & Electronic Warfare (ISR&EW).
The main aim of the event was to initiate discussion about challenges and possible approaches in favour of modern Joint Intelligence, Surveillance and Reconnaissance (JISR) activities between NATO experts. Specifically reflecting new type of sensors, like Deployable Passive ESM Tracker (DPET) VERA-NG fulfilling dual role for Electronic Warfare and Air Defence. Czech Armed Forces together with partners presented applied effective way of integration for both end users. DPET users presented and shared their experience.
ISR &EW capabilities are closely interlinked with other aspects of adapting NATO to the requirements of current strategic security environment, Joint Intelligence, the Surveillance and Reconnaissance (JISR) concept, Suppression of Enemy Air Defence (SEAD) and Anti-Access/Area Denial (A2/AD). "The workshop focused on radar structures built on the two platforms that constitute a standard for air defence – conventional radar and PET," as was stated by the Czech ambassador to NATO Jiří Šedivý in his opening address.
ERA Company, as the PET developer and worldwide supplier, not only co-organized and supported the event but also sent several of its experts. They lectured on passive radar systems, namely DPET VERA-NG. Vojtěch Stejskal from the ERA Strategy department introduced the issue in two lectures called "DPET NATO Asset" and "Multisensor Surveillance Future". The workshop chairman, Colonel Vladimír Lang from the Czech General Staff, lectured on ISR & EW concept by the Czech Armed Forces and Lieutenant Colonel Petr Šnajdárek on complexity, integration and usefulness of the joint architecture of ISR & EW. ERA advisors, Major General Bohuslav Dvořák and Colonel Vladimír Lang, chaired the panel discussions. Richard Mácha, CZ NADREP from HQ NATO enthusiastically served as moderator for this two day event.
There was also an exhibition of two Czech companies related to the workshop topic on site. ERA had its exhibition stand with its mock-up Vera-NG antenna alongside the JISR Institute, another important and valuable participant in the workshop programme. The international audience could visit their exhibition booths during coffee and lunch breaks and ERA thus had an opportunity to introduce itself to a variety of guests, mainly NATO specialists from NCIA, project managers, SHAPE, DACCC, NIAG, the NATO Defence Investment division, the NATO Intelligence and Security Division and other NATO permanent delegations from HQ NATO. This specialised workshop also had an open format with the presence of defence industry representatives from Leonardo, Airbus, Boeing and Elettronica.
The workshop was very highly and positively evaluated by all participants.
ERA ve spolupráci s Českou armádou a Stálou delegací České republiky při NATO zorganizovala v listopadu tzv. ISR & EW workshop v sídle Severoatlantické aliance v hlavním městě Belgie. Konference, které se zúčastnilo 70 zájemců z mnoha zemí, se zaměřila na nejdůležitější součást moderního konceptu obrany: Intelligence, Surveillance and Reconnaissance & Electronic Warfare (ISR&EW).
Hlavním záměrem akce bylo iniciovat diskusi expertů napříč NATO o výzvách, které přináší moderní elektronický boj a využívání systémů pro sledování a identifikaci cílů, zvláště s přihlédnutím k roli, kterou mohou sehrát nově využívané sensory DPET. Deployable Passive ESM Tracker (DPET) VERA-NG vyvinutý v ERA je schopen naplnit oboustrannou roli a přispět k elektronickému boji stejně jako ke klasické protivzdušné obraně. Experti AČR spolu se specialisty ERA a partnery z firmy JISR Institute odprezentovali účastníkům workshopu efektivní způsoby integrace systému VERA do ozbrojených složek koncových uživatelů na základě zkušeností v české armádě. Někteří z uživatelů z jiných států rovněž přispěli svými zkušenostmi s využíváním DPET pro národní obranu.
Možnosti, které přináší ISR &EW, jsou úzce svázány s dalšími současnými strategickými požadavky na bezpečnost řešenými jako Suppression of Enemy Air Defence (SEAD) a Anti-Access/Area Denial (A2/AD). "Workshop se soustředí na radarové struktury budované na dvou platformách, které nyní představují standard protivzdušné obrany: tradiční radary a systémy DPET," osvětlil ve své úvodní řeči Jiří Šedivý, český velvyslanec při NATO.
ERA jako světový vývozce systému DPET VERA nejenže workshop pomohla zorganizovat, ale vyslala rovněž silný tým specialistů, kteří se aktivně účastnili přednáškového programu. Vojtěch Stejskal z oddělení strategie představil téma hned ve dvou přednáškách: Přínos DPET pro NATO a Budoucnost více-sensorového sledování." Předsedající konference, plukovník Vladimír Lang z generálního štábu AČR přednesl příspěvek na téma Koncept ISR & EW v českých ozbrojených silách a podplukovník Petr Šnajdárek vysvětlil užitečnost integrace společné architektury ISR a EW. Konzultant ERA generálmajor Bohuslav Dvořák vedl panelovou diskusi a Richard Mácha z České delegace při NATO celé setkání moderoval.
Workshop navštívili zástupci NCIA, SHAPE, DACCC, NIAG a dalších stálých národních delegací při NATO. K zástupcům průmyslu patřili firmy Leonardo, Airbus, Boeing a Elettronica.