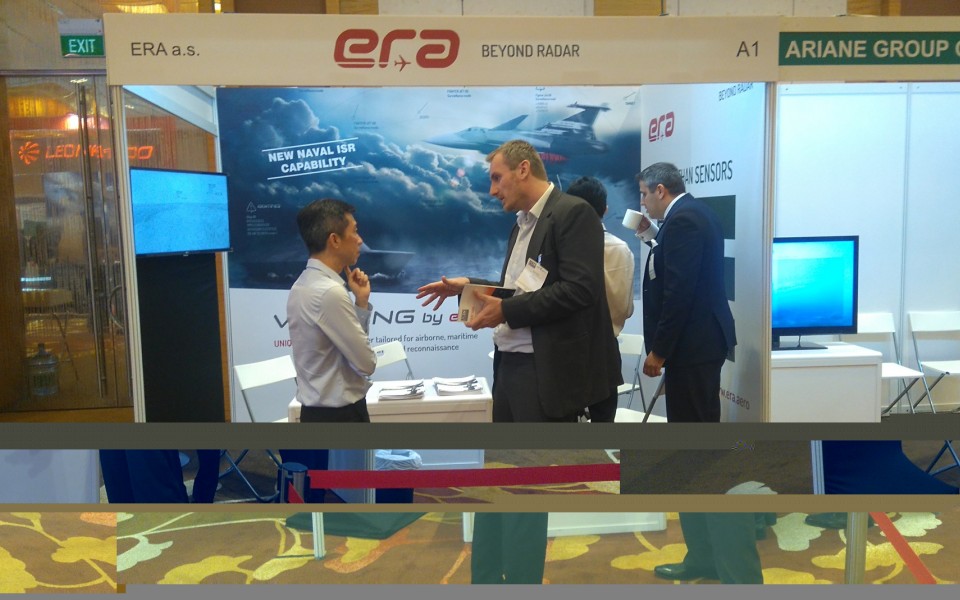 ERA presented its systems at the Electronic Warfare conference ADECS 2018 in Singapore
ERA zaujala na další konferenci o elektronickém boji ADECS 2018 v Singapuru
ADECS 2018 took place on the 30-31 January 2018 with industry influencers, military officials and government delegations at Marina Bay Sands, Singapore for 2 days of exclusive content with four conferences: Undersea Defence Technology Asia, Military Training & Simulation Asia, Maritime Defence Asia and AOC Electronic Warfare (EW) Singapore
The combined format of ADECS launched for 2018 has allowed for expanding the number of exhibitors and visitors providing them with the opportunity to explore the entire exhibition across all themes. The exhibition hall showcased future defence capabilities, with 39 companies exhibiting in all.
ERA successfully presented its unique VERA-NG military passive surveillance system. Vera-NG uses advanced techniques to conduct cross-border long-term and long-range surveillance without alerting neighbouring nations. The system defines the new sensor category DPET (Deployable Passive ESM Tracker) tailored for air, maritime and land target surveillance and reconnaissance for defence and electronic warfare purposes.
Representatives from various parts of the world were interested in ERA solutions. Delegations from Indonesia, Singapore, United Arab Emirates, Malaysia, Germany, Hungary, France and Egypt visited the ERA booth.
Ales Kostal, head of the strategy department, took part in the conference programme - lectures were focused on various key issues of the current global situation and defence technologies. Sales Manager Petr Burian had a number of meetings with ERA's business partners in this region.
Konference ADECS 2018 se konala na konci ledna na výstavišti Marina Bay Sands v Singapuru a během dvou dnů měli návštěvníci z vládních, akademických i průmyslových kruhů možnost zúčastnit se programu přednášek ve čtyřech hlavních blocích: Podmořské obranné technologie, Vojenská cvičení a simulace, Námořní obrana a Elektronický boj.
Poslední jmenované se zúčastnila také ERA se svým systémem pro sledování a identifikaci VERA-NG: Představila tak koncept nové kategorie protivzdušné obrany, tzv. DPET (Deployable Passive ESM Tracker) vhodný pro trekování vzdušných, námořních i pozemních cílů, stejně jako pro potřeby moderního elektronického boje.
Vedoucí oddělení strategie a produktového marketingu Aleš Košťál se zúčastnil přednáškového programu zaměřeného na klíčové otázky využití obranných technologií v současném globalizovaném světě. Obchodní manažer Petr Burián využil konferenci k setkáním s přítomnými obchodními partnery, kterých má ERA v této části světa mnoho. Stánek, na kterém ERA představovala svá řešení, navštívily delegace z Indonésie, Singapuru, Spojených arabských emirátů, Malajsie, Německa, Maďarska, Francie a Egypta. Celkem na konferenci vystavovalo 39 firem z celého světa.