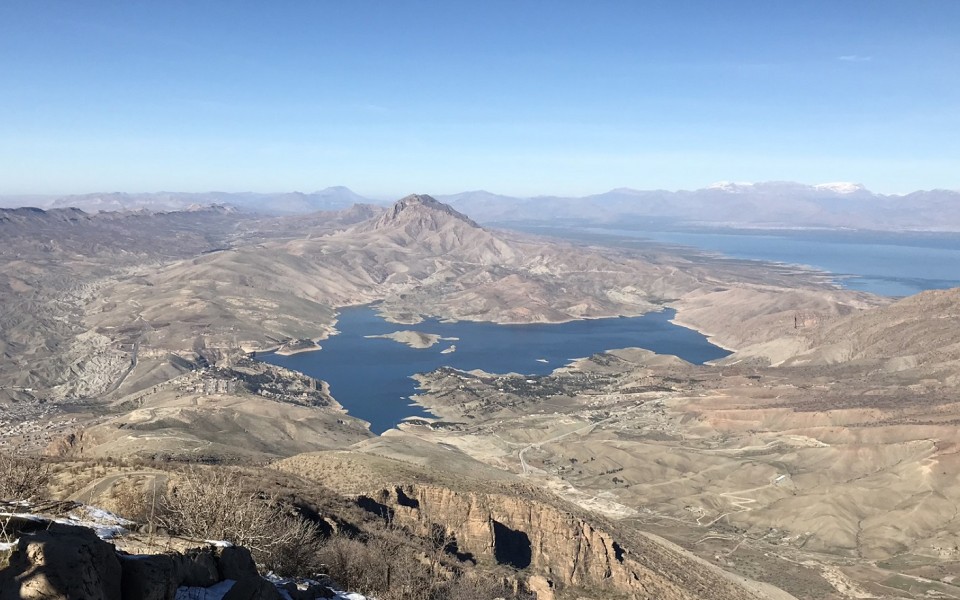 ERA was awarded a contract to install its WAM system to cover the TMA of Sulaimaniyah Airport in Iraqi Kurdistan
ERA vyhrála tendr na pokrytí příletové oblasti letiště Sulajmánía v iráckém Kurdistánu
ERA (a member of OMNIPOL group) announced that it has been awarded a contract to implement a WAM and ATM system covering the Terminal Manoeuvring Area of Sulaimaniyah International Airport in Kurdistan, an autonomous region of the Republic of Iraq. ERA will deliver a composite multilateration and ADS-B system for surveillance of aircraft approaching the airport, covering the lower flight level to an extension of 50 NM.
ERA won the tender and will supply eight ground stations of its tried and tested MSS (Multi-sensor Surveillance System) and the ATM system ERIS. The contract was signed by the prime contractor, the company Waypoint and Kurdistan Regional Government in December 2017 as a result of a tendering process organized by the end user - Sulaimaniyah International Airport.
"This is an important project which ensures that Sulaimaniyah International Airport has the best available technology. The newly implemented multilateration system will operate independently without any support of traditional radar and is hereby a full-fledged replacement for the procedural air traffic management used until now," stated Mr. Taher Abdallah, Director of Sulaimaniyah airport.
MSS by ERA is a modular system easily adaptable to any terminal and wide area requirements as well as all terrain challenges. Due to their resistance to adverse weather conditions, low power consumption and their minimal impact on the environment, the WAM sensors can be easily mounted in the Kurdistan mountains and will therefore be able to cover the TMA of the airport, which is located in the middle of the valley.
The team of ERA experts carried out a site survey and chose appropriate locations for the stations in January 2018. The Factory Acceptance Tests are planned for June 2018. The new equipment will be installed at the end of the year and is supposed to become operational in the first quarter of 2019.
Sulaimaniyah International Airport is a new airport established in 2005, located 15 kilometres outside the city of Sulaimaniyah, in Iraqi Kurdistan and has three terminals.
Kurdistan, literally "homeland of the Kurds" or Greater Kurdistan, is a roughly defined geo-cultural region where the Kurdish people form a prominent majority population and where their language, culture and national identity have historically been based. It encompasses the north-west Zagros and the eastern Taurus mountain ranges. Current use of the term refers to the following areas: south-east Turkey, northern Iraq, north-west Iran and northern Syria. Iraqi Kurdistan first gained autonomous status in a 1970 agreement with the Iraqi government, and its status was re-confirmed within the Federal Republic of Iraq in 2005.
ERA (člen skupiny OMNIPOL) podepsala smlouvu na instalaci WAM systému k pokrytí příletové oblasti Mezinárodního letiště Sulajmánía v Kurdistánu, autonomní oblasti na severu Iráku. Systém bude hlídat letadla při sestupu v nízkých letových hladinách až do vzdálenosti 50 námořních mil od letiště. Projekt představuje podobnou výzvu jako letiště v Qeenstownu na Novém Zélandu – také Sulajmánía leží v údolí mezi horami, takže letový provoz není možné sledovat pomocí radaru.
Na základě vyhraného tendru ERA instaluje v okolních horách osm stanic svého osvědčeného multilateračního systému MSS se zabudovanou ADS-B funkcionalitou, tzv. škeble, které vydrží náročné klimatické podmínky. Na samotném letišti se pak uplatní systém pro řízení letového provozu ERIS. Kontrakt v prosinci podepsali hlavní smluvní partner společnost Waypoint a za iráckou stranu vláda Kurdské autonomní oblasti, tender vypsalo Mezinárodní letiště Sulajmánía.
"Tento důležitý projekt zajistí našemu letišti nejlepší dostupnou technologii. Vybraný multilaterační systém je schopen fungovat a poskytovat letové informace dle našich požadavků bez podpory klasického radaru a tudíž je dostatečnou náhradou dosud používaného procedurálního řízení, " uvedl Taher Abdallah, ředitel letiště Sulajmánía.
Modulární systém MSS je odolný za rozmanitých povětrnostních podmínek (zde teploty od -10 do 50°Celsia) a je možné jej instalovat v jakémkoliv terénu, navíc má nízkou spotřebu energie, je bezúdržbový a šetrný k přírodě. Stanice tak mohou být rozmístěny na kopcích v okolí letiště a dobře "vidět" do údolí mezi nimi. Při lednové site survey již byly vybrány příhodné lokality, FATy jsou naplánovány na červen a samotná instalace na místě proběhne v závěru letošního roku. Uvedení do provozu se předpokládá v prvním čtvrtletí roku 2019.
Mezinárodní letiště Sulajmánía bylo postaveno teprve nedávno, provoz zahájilo v roce 2005. Leží 15 kilometrů od města Sulajmánía v iráckém Kurdistánu a má tři terminály.
Kurdistán, doslova "vlast Kurdů" případně Velký Kurdistán, je jen přibližně vytyčená kulturně zeměpisná oblast, v níž převažuje kurdské obyvatelstvo a z níž historicky pochází tento národ, který nemá vlastní stát, ale jinak má svou řeč, kulturu i dějiny. Zahrnuje dvojí pohoří: severozápadní Zagros a východní Taurus. V současnosti termín Kurdistán odkazuje k následujícím oblastem: jihovýchodní Turecko, severní Irák, severozápadní Írán a severní Sýrie. Irácký Kurdistán poprvé získal samostatnost v roce 1970 smlouvou s iráckou vládou a jeho status byl potvrzen v roce 2005 Iráckou republikou, která je federací.