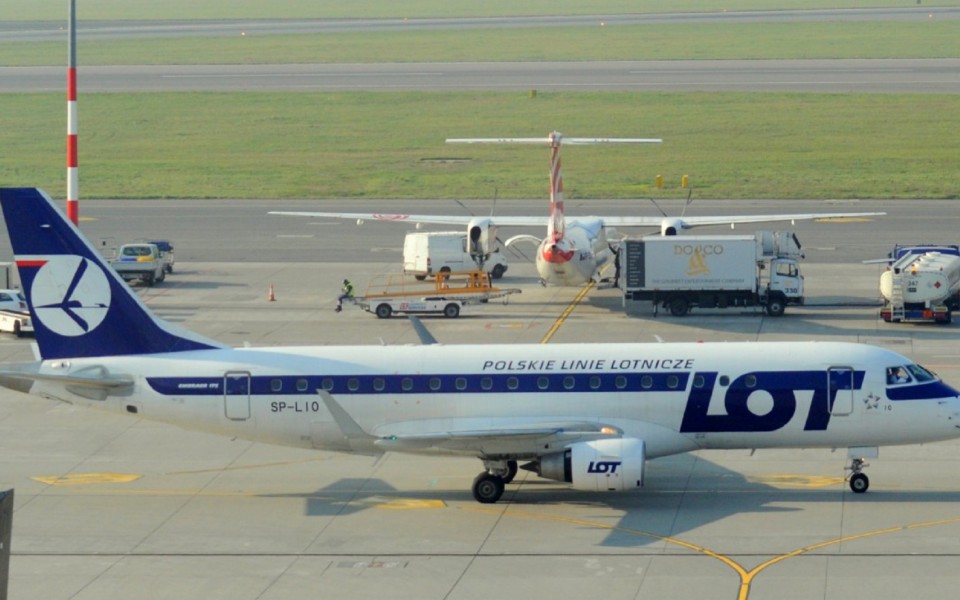 ERA won another tender and will install its system at the Warsaw airport in Poland
ERA vyhrála další evropský tendr. Její systém přispěje k bezpečnosti letového provozu na letišti ve Varšavě
ERA (a member of OMNIPOL group) announces another significant contract award in Europe (effective 24 July 2018) for the supplying, installation and commissioning of a surface multilateration system to the international Warsaw Chopin Airport in the Polish capital.
ERA, teamed-up with the local company GISS Sp. z o.o. and ERA-GISS consortium, was selected by Polish Air Navigation Services Agency (PANSA) as the winner in an international competitive tender. The proposed surface multilateration system will be implemented as part of the Advanced Surface Monitoring and Guidance System for Warsaw Chopin Airport and will significantly contribute to surveillance enhancement of the airport and increasing the safety of ATC operations.
"ERA has attained its 30th airport reference in Europe by signing this important contract. Our strong position in Europe helps promote ERA´s technologies in other global markets, since ATM standardization and legislation is defined by organizations within the EU," stated Jakub Thomas, Head of Sales at ERA. He added:" I am happy to see ERA´s continuously increasing customer base as well as the expanding product portfolio for the ATM segment."
ERA-GISS consortium will deliver certified mature system NEO, the enhanced version of the multisensory surveillance system tried and tested by dozens of installations. This multi-solution system (MLAT, WAM, ADS-B, PRM, HMU) has a robust system design, enhanced signal detection, reduced power consumption and is international standards compliant.
On Warsaw airport
Warsaw Frederic Chopin Airport (formerly known as Warsaw-Okecie Airport and renamed after the Polish composer Fryderyk Chopin in 2001) is an international airport located in the Włochy district of Warsaw. As Poland's largest and busiest airport, Warsaw Chopin handles 40% of the country's air passenger traffic, approximately 300 scheduled flights daily and an ever-rising number of charters. With its 16 million passengers in 2017, the airport is the busiest one in the newer EU member states.
ERA (člen skupiny OMNIPOL) získala další zakázku na velmi konkurenčním evropském trhu. V červenci spolu s polskou firmou GISS podepsala smlouvu na dodávku letištního systému na mezinárodní letiště Fryderyka Chopina v polském hlavním městě Varšavě.
Na základě vítězství v mezinárodním tendru konsorcium ERA/GISS dodá přehledový letištní systém pro polské řízení letového provozu PANSA. Přehledový multilaterační systém bude sloužit jako součást komplexního řešení pro řízení pozemního provozu na mezinárodním Chopinově letišti, čímž dojde ke zvýšení bezpečnosti řízení letového provozu.
"Touto důležitou zakázkou v zemi našeho souseda se počet ERA systémů na evropských letištích zvýšil na třicet. Naše silná pozice na evropském trhu nám pomáhá prosadit se i jinde ve světě, jelikož legislativa a standardy pro letecký provoz vznikají zejména na půdě evropských organizací," uvedl vedoucí obchodního úseku Jakub Thomas. "Jsem rád, že se firmě daří zvyšovat počet zákazníků a zároveň rozšiřovat produktové portfolio a to nejenom pro segment řízení letového provozu," dodal.
Konsorcium ERA/GISS vybaví varšavské letiště ověřeným a certifikovaným systémem NEO, vylepšenou verzí multisenzorového sledovacího systému, který se osvědčil při desítkách instalací na všech kontinentech. Díky svému designu je vysoce odolný proti rozmarům počasí, má nízkou spotřebu energie, je šetrný k životnímu prostředí a splňuje všechny požadované standardy pro letový provoz.
O letišti ve Varšavě
Varšavské mezinárodní letiště pojmenované v roce 2011 po skladateli Fryderyku Chopinovi je známé též jako Varšava - Okecie. Nachází se ve varšavské čtvrti Włochy (česky Itálie) a je to největší polské letiště, které odbaví 40 procent všech cestujících leteckou dopravou na území Polska a cca 300 letů denně. S počtem pasažérů 16 milionů ročně je varšavské letiště tím nejvytíženějším v nových členských zemích Evropské unie.