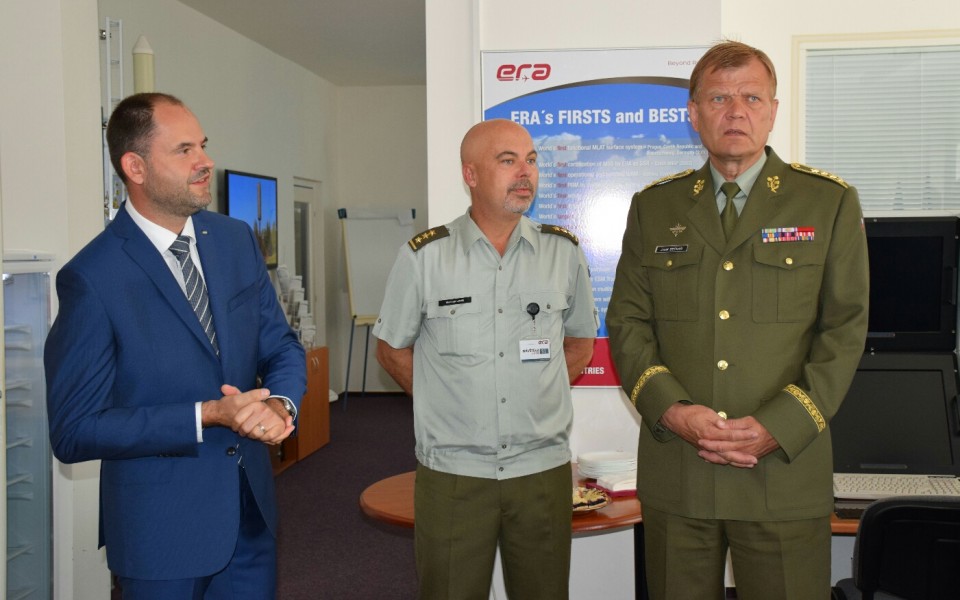 General Josef Bečvář, the Chief of the General Staff of the Czech Armed Forces, visited ERA headquarters
Náčelník generálního štábu Armády České republiky navštívil firmu ERA
A delegation of Czech Armed Forces officials visited the ERA premises in Pardubice in the last week of August. General Josef Bečvář, the Chief of the General Staff, his adjutant Major Karel Strejc and Colonel Vladimír Lang, Electronic Warfare specialist, travelled to Pardubice to meet ERA managers and explore possibilities to broaden long-term cooperation with ERA – remarkable defence and security technology producer.
The Chief of the General Staff and his entourage were welcomed by the ERA Managing Director Viktor Sotona and Commercial Director Ondřej Chlost in Pardubice headquarters. The programme began with a short introduction to ERA Company and those of its products suitable for defence purposes. Mention was made of ERA's latest achievements such as the NATO contract. There was also a guided tour of the ERA premises and a brief discussion on schooling, training, research & development and other forms of collaboration between the ERA and Czech Army experts.
"The cooperation of our company with The Czech Armed Forces, which have been using our surveillance system for decades, is the best reference for our potential customers and we highly appreciate it," started Viktor Sotona, ERA Managing Director.
Josef Bečvář and other guests displayed a serious interest in the capabilities of VERA-NG such as identifying targets, low energy consumption and possible performance under harsh climate conditions. As part of the guided "sightseeing" tour around the facilities, the guests observed the actual process of assembling VERA -NG antennas before shipping them to ERA's most recent customers.
"We recognize ERA as reliable long-term partner of Czech Army. Passive surveillance systém VERA is one of the key parts of national air defence," stated General Josef Bečvář.
General Josef Bečvář (born 11 August 1958) is a Czech army officer. He graduated from the Military Academy in Brno including postgraduate study in command-staff, his specialty is rocket troops and artillery. He is the current Chief of the General Staff of the Armed Forces of the Czech Republic. Bečvář has been established in May 2015 when he succeed Petr Pavel.
Photos: Major Denisa Vernerova, PR Departement, General Staff of the Armed Forces of the Czech Republic
V úterý 23. srpna navštívil náčelník Generálního štábu Armády ČR armádní generál Josef Bečvář pardubickou společnost ERA a.s.
Její novodobá historie se úzce pojí právě s českou armádou. Společnost je mimo jiné výrobcem pasivního sledovacího systému VĚRA, který pomáhá chránit vzdušný prostor naší země, poskytuje přehledové informace o vzdušné situaci, identifikuje cíle v reálném čase a podporuje vojáky v zahraničních operacích. Armáda jej začala používat v letech 1994 až 1996 a používá ho doposud.
Úvodní prezentaci zahájil generální ředitel Viktor Sotona. Popsal postupný růst společnosti až do dnešní doby, kdy zaměstnává více než tři stovky lidí a její systémy můžeme najít po celém světě. Jsme jí vděční za dlouholetou spolupráci," řekl a připomněl propagační slogan "Vidět a nebýt viděn."
Dále se věnoval spolupráci s partnerskými firmami, výzkumnými a univerzitními institucemi, včetně Univerzity obrany Brno. Ocenil také podíl příslušníků Armády ČR na konzultační činnosti a na školení zákazníků.
Došlo i na představení produktového portfolia, které bylo zaměřeno zejména na bezpečnost
a spolehlivost řízení letového provozu i protivzdušné obrany. Pozornost byla věnována také rozvoji sledovacích systémů z pohledu zajištění potřeb AČR, NATO a EU.
Během prohlídky výrobních kapacit firmy proběhla neformální diskuze na téma dodávky nového typu VĚRA NG pro armády států NATO a požadavků na školení obsluh těchto zařízení. Případná pomoc specialistů AČR bude předmětem dalších jednání.
Ze strany Armády ČR byla oceněna možnost přímého podílu na vývoji a realizaci požadovaného finálního produktu, čímž se jasně definují potřeby a požadavky vojáků. Kooperace probíhá také v rámci společných cvičení. "Naši specialisté tak mohou zhodnotit své dosavadní zkušenosti a zároveň získávají nejnovější poznatky o systému," konstatoval v závěru návštěvy generál Bečvář a dodal: "Je to sice moje první návštěva vaší společnosti, nicméně naše spolupráce je dlouhodobá a na velmi dobré úrovni. Pasivní sledovací systém Věra je důležitou a neoddělitelnou součástí naší protivzdušné obrany."
Autor a foto: majorka Denisa Vernerová, oddělení komunikace s veřejností, Generální štáb Armády České republiky