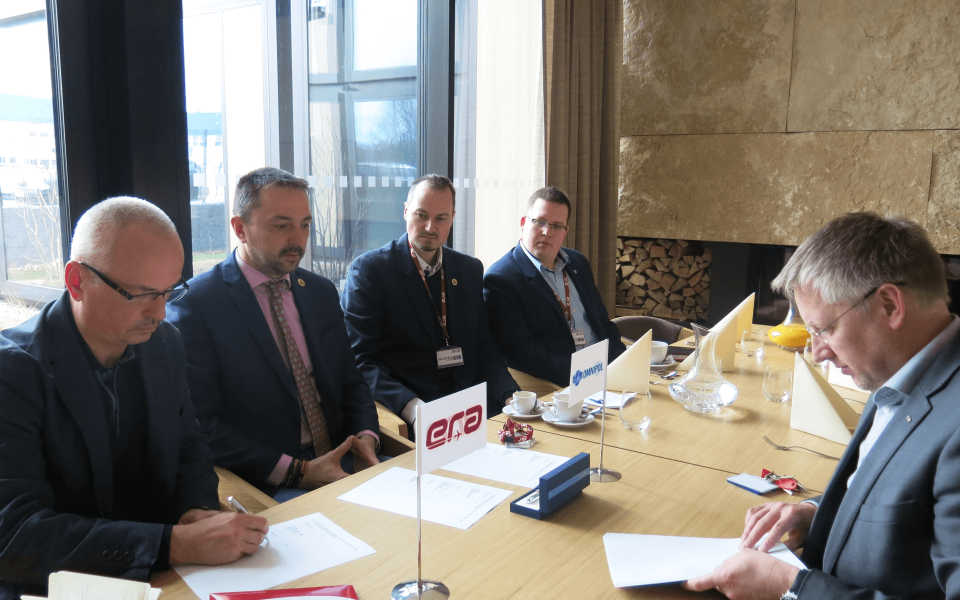 ERA and OMNIPOL have become a main partner once again for the NATO Days security show
ERA a OMNIPOL budou hlavními partnery bezpečnostní show Dny NATO v Ostravě
ERA along with its parent company OMNIPOL are going to be a main partner once more in the major display of the capabilities of defence and security industry and military institutions known as NATO Days in Ostrava. The contract was signed by officials from both companies and the organizer Jagello agency at the new ERA headquarters in Pardubice in the middle of March.
The 17th edition of NATO Days in Ostrava & the 8th edition of Czech Air Force Days, the largest security show in Europe and the most popular in terms of attendance weekend event in the Czech Republic, will be held at Leos Janacek Airport in Ostrava, on September 16 – 17, 2017. ERA will present its military surveillance and reconnaissance system - Passive ESM Tracker VERA-NG. Other important players in the field such as Skoda Auto, Aero Vodochody, LOM Praha, Bell Helicopter, etc. are also scheduled to participate and exhibit their products delivered to Czech Armed Forces and other security bodies.
NATO Days in Ostrava aims at presenting a wide spectrum of the resources of the Czech Republic and its allies in the field of security provision to the general public. It is the only event that brings together the technology used by soldiers, fire fighters, policemen, customs officers, the prison service, the municipal police and others in one location. Apart from providing an attractive program that draws record numbers of visitors, the event also serves as a significant social venue and as a forum for security experts.
Letos v polovině září se ERA spolu s mateřskou společností OMNIPOL představí na Dnech NATO v Ostravě jako hlavní partneři největší přehlídky vojenské techniky pro veřejnost v Evropě. Smlouva o spolupráci byla podepsána v sídle firmy ERA v Pardubicích minulý týden.
17. ročník Dnů NATO v Ostravě spolu s 8. Dny Vzdušných sil AČR se uskuteční o víkendu 16. a 17. září na letišti Leoše Janáčka v Ostravě-Mošnově. Cílem akce je, dle pořadatelské agentury Jagello 2000, předvést veřejnosti na jednom místě co nejširší spektrum zdrojů a kapacit České republiky a jejích spojenců v oblasti obranných technologií. ERA a OMNIPOL budou mít na akci vlastní ground box a představí mimo jiné unikátní pasivní radiolokační systém VERA-NG.
Dny NATO představí na malé ploše jindy neviděné vybavení vojáků, policistů, hasičů, celníků či vězeňské služby. Hlavní program sestává z prezentací armád, policie, záchranářů, speciálních jednotek, letectva a jejich výzbroje a výstroje. Při této příležitosti také významným hostům ve VIP zóně firmy jako Škoda, AERO Vodochody AEROSPACE, LOM PRAHA, Bell Helicopter a další předvedou své výrobky, které tyto organizace používají. Mezi pravidelné hosty patří členové české vlády, představitelé NATO a Evropské unie, velvyslanci a vojenští přidělenci z České republiky i ze zahraničí.