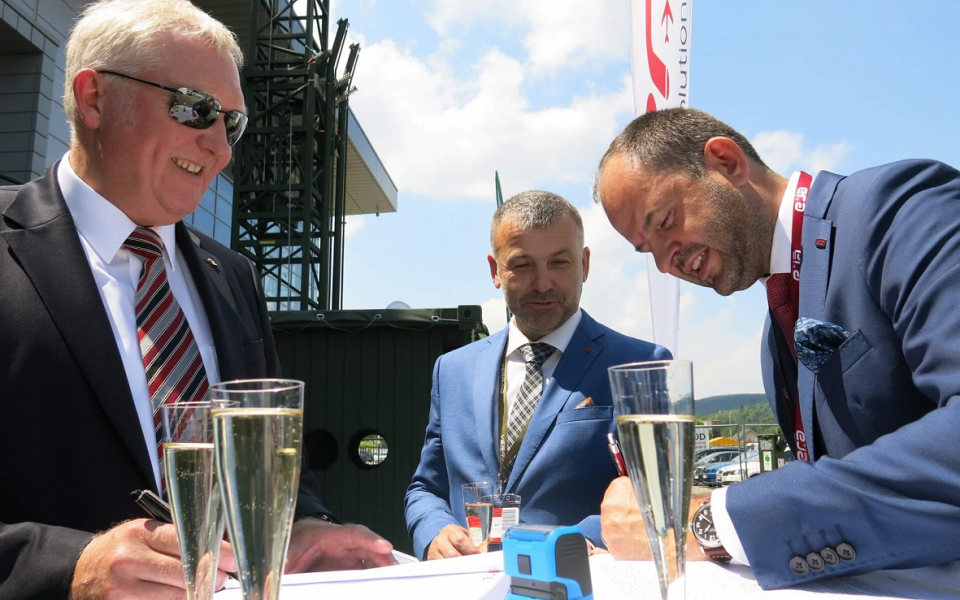 ERA and the German company SMAG have signed a contract for delivery of first batch of container mast systems for DPET VERA-NG
ERA a německá firma SMAG podepsaly na výstavě IDET v Brně smlouvu na dodávku první série kontejnerů se stožáry pro systém VERA-NG
Czech company ERA, the supplier of unique passive surveillance and reconnaissance system VERA-NG, and German manufacturer SMAG have signed a contract for the delivery of container mast systems within IDET exhibition in Brno. The mast prototype has been exhibited at IDET defence and security international fair this week. Further projects and possible deliveries are in a planning stage.
After successful development and delivery of a prototype of new mast system type Ftm 25/6 the managing directors of both companies signed the contract about the delivery of container mast systems in series production. The outlook is positive -there is a great demand for the innovative containerized systems. New further projects are already in progress and both companies are expecting repeat orders.
"We know company ERA since many years now, this company has developed and modified passive radar systems VERA-NG. This surveillance and reconnaissance system has been verified as a very reliable and unique system in the market. Together we have developed a new mobile mast system type Ftm 25/6 Medium, which connect both systems in an optimal way. The complete system is hosted in twenty feet long container, which comes with the mast and it is easy to be transported to any point of mission," stated Wolfgang Schnelle, SMAG Managing Director.
"ERA is pleased to cooperate with such experienced and flexible partner, we really need to differentiate our portfolio of suppliers in order to balance the risks and we are glad that SMAG components perfectly complement our antennas to create one united mobile system," stated Viktor Sotona, ERA Managing Director.
About SMAG Mobile Antenna Masts GmbH
SMAG Mobile Antenna Masts GmbH (SMAM) a subsidiary of Salzgitter Maschinenbau AG, is the unique manufacturer of Mobile Antenna Masts worldwide up to a height of 40 m without using any kind of guy wires. The Mobile Antenna Masts are globally used for disaster and military operations, for mobile communication, radio and broadcasting transmissions. The mast systems are tailor made and can be mounted e.g. on trailers, trucks, containers, armoured vehicles and platforms.
About Salzgitter Maschinenbau AG
Salzgitter Maschinenbau AG (SMAG) is the holding company of a German group of mechanical engineering companies with factories in Germany, China, India and Slovakia where grabs for loading and unloading seagoing cargo vessels, fully equipped driver cabins, automated drilling technology for the open-pit and underground mining industry, special-purpose vehicles for the process industry as well as mechanic and hydraulic telescopic antenna masts are developed and manufactured.
www.smag.de
Výrobce pasivně radiolokačních systémů ERA a německý dodavatel stožárů pro antény SMAG podepsali na základě úspěšně předvedeného prototypu smlouvu na dodávku kontejnerů s vysouvacími stožáry typu Ftm 25/6 pro unikátní sledovací systém VERA-NG. Akt podpisu se uskutečnil na výstavním stánku společností ERA a OMNIPOL na brněnském výstavišti v rámci konání třídenního veletrhu obranných technologií IDET. Ve venkovní expozici ERA na IDETu byl rovněž vystaven prototyp stožáru SMAG spolu s dalšími novými mobilními prvky systému VERA. První dodávky společného systému lze očekávat koncem roku a obě firmy plánují i další projekty.
Cílem společného vývojového projektu obou firem bylo optimálně propojit oba výrobky tak, aby anténa a stožár fungovaly dohromady jako jediný efektivní systém. To umožní maximální mobilitu a rychlé nasazení sledovacího systému VERA-NG i v drsném terénu.
"Známe firmu ERA již léta jako výrobce VERA-NG. Tento sledovací systém se díky své spolehlivosti prosadil na trhu a je stále jedinečný. Nyní jsme společně vyvinuli nový stožár pro antény, který oba naše systémy efektivně propojil. Stožár je plně automatický a po velmi krátké instalaci je ihned připraven k nasazení v terénu při případné misi," uvedl Wolfgang Schnelle, generální ředitel společnosti SMAG.
Největší výhodou nového stožáru je jeho užitné zatížení až do 300 kilogramů s nejvyšší možnou přesností umístění vrcholové části, která se nevychyluje ani při vysoké rychlosti větru, aniž by bylo potřeba používat jakákoli kotvící lana. Během transportu je celý systém chráněn uschován ve společném krytém kontejneru.
"SMAG je opravdu zkušený výrobce a spolupráce na vývoji prototypu byla velmi uspokojující. Stožár se jeví být perfektním doplňkem systému VERA-NG, který má velmi podobné flexibilní užitné vlastnosti oceňované zákazníky z řad armádních sil v mnoha zemích," řekl generální ředitel ERA Viktor Sotona.
VERA-NG – světově unikátní pasivní sledovací systém od firmy ERA
Mobilní pasivní sledovací systém VERA-NG je 5. generace českého unikátního systému pro detekci, lokalizaci, identifikaci a sledování vzdušných, pozemních a námořních cílů. Systém je navržen jako plně mobilní ve třech verzích, které společnost ERA nabízí zákazníkům po celém světě. Antény mohou být umístěny buď na stožárech (dvou různých délek - 12 a 25 metrů) s vysouvacím tubusem nebo na lehkých stojanech v podobě tripodu či tetrapodu. Celý systém se dá jednoduše převážet buď na speciálních nákladních vozidlech, která jsou nedílnou součástí dodávky, nebo i běžnými armádními vozy. Dodává se se sensory, které se dají složit a rozložit, a s velícím centrem v podobě kontejneru, které obsahuje kompletní vybavení pro zpracování a analýzu zjištěných dat. Všechny tyto mobilní komponenty umožňují rychlé taktické nasazení.
O německé firmě SMAG
Společnost SMAG je holding zahrnující celou skupinu německých strojírenských firem, které mají továrny kromě Německa také v Číně, Indii a na Slovensku. Vyrábějí zařízení pro vykládku a nakládku námořních nákladních lodí, plně vybavené kabiny řidičů kamionů, automatické vrtné soupravy pro těžební jámy a podzemní důlní průmysl, speciální vozidla pro zpracovatelský průmysl a v neposlední řadě právě hydraulické teleskopické anténní stožáry.