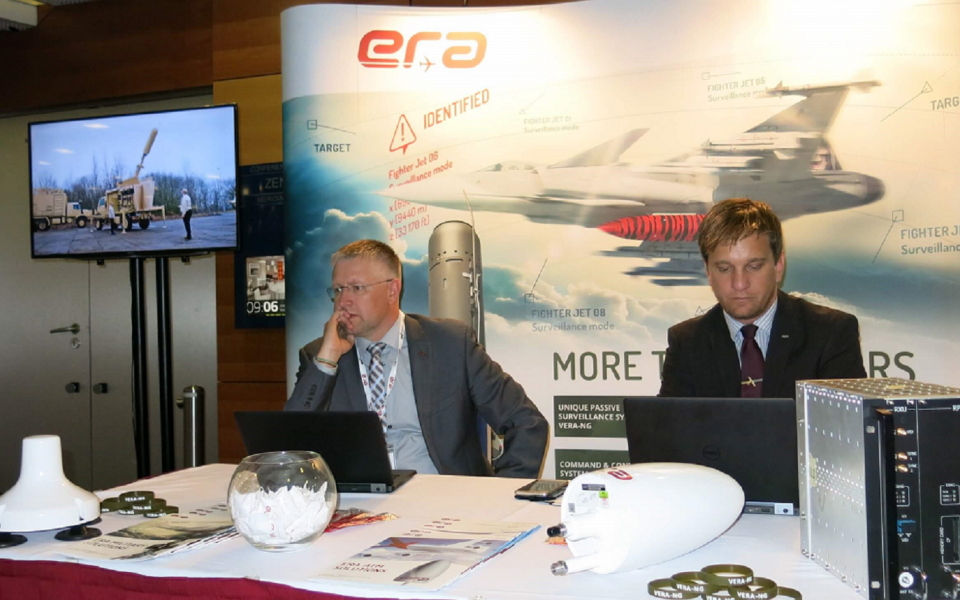 ERA became the main partner for the historically first International Radar Symposium IRS 2017 in Prague
ERA se stala partnerem historicky prvního symposia IRS v Praze
The IRS event finally took place in the Czech Republic this year after 17 annual conferences held in other Central European countries. The International Radar Symposium IRS 2017 was organized by the German Institute of Navigation (DGON) and the University of Defence in Brno at Clarion Hotel in Prague from 28 to 30 of June. In total 330 scientists participated in the radar conference and presented their interesting research results during oral and poster sessions including several ERA radar specialists.
The International Radar Symposium aims at providing a forum for both academic and industrial professionals in radar technology from all over the world. It brings together academicians, researchers, engineers and students to share and discuss both theoretical, experimental and practical knowledge. The participants were from three dozen countries, including Germany, Czech Republic, China, Poland, Italy, Hungary, France, Finland, the USA, Canada, the UK, the Netherlands, Japan, South Korea, Russia, Bulgaria, Ukraine, Iran etc.
ERA as a major player in the R&D radar community, not only subsidized the event but also sent several of its experts, who lectured on passive radar systems developed in ERA and in the Czech Republic respectively. Vojtech Stejskal from the ERA Strategy department, in his talk entitled "Renaissance of the Radar Valley" as part of the main panel, focused on the Pardubice region and its "Silicon Valley" effect in electronics. Another Czech participant, symposium co-organizer Prof. Jiří Veselý also touched on this theme, his lecture topic being "The History of Radar Surveillance in the Czech Republic." Another ERA researcher Tomas Shejbal took active part in one of the lecture panels and described the details of ERA recent R&D project – the Passive Coherent Location Technology.
There was also a varied exhibition on site of companies related to radar topics. The international audience at IRS 2017 could visit their exhibition booths while gathering between symposium sessions and during coffee and lunch breaks. ERA thus had an opportunity to present its work to world-leading scientists from universities, labs and industry active in radar research fields.
The International Radar Symposium (IRS) has a 19-year historical development. The successful start was in Munich, Germany in 1998, which led to a series of conferences in Berlin, Bonn and Dresden. "Joint cooperation with Polish radar society led to an idea to further integrate the radar experts from east European countries. Since that time IRS has been held every two years in Germany, Poland as well as in Lithuania and this year in Czech Republic", said the IRS founder and Chairman, Professor Hermann Rohling from Hamburg University of Technology.
Together with the University of Defence in Brno, the intention of organizing the symposium the Czech Republic was developed. "I met Hermann and expressed our interest in participating in IRS and placing our country on the list of potential organizers. He consequently gave me his full trust to prepare the symposium in Prague," stated Jiri Vesely, IRS 2017 Co-Chairman.
As part of the conference programme, the Christian Hülsmeyer Award by the German Institute of Navigation (DGON) was given for outstanding contributions to the field of radar system design and development. The ceremony took place in the Grand Ballroom of Slovanský Dům.
Mezinárodní radarové symposium (International Radar Symposium) se po předchozích 17 ročnících, kdy vystřídalo několik středoevropských zemí, konečně konalo v České republice. IRS 2017 zorganizoval Německý ústav pro navigaci (DGON) ve spolupráci s brněnskou Univerzitou obrany v hotelu Clarion v Praze od 28. do 30. června. 330 vědců prezentovalo závěry svého výzkumu během nabitého přednáškového programu či v formou posteru, a to včetně několika specialistů z ERA.
Cílem IRS je vytvořit společné fórum pro akademiky a lidi z průmyslu – profesionály ve výzkumu radarových technologií z celého světa. Účastníci ze tří desítek zemí přijeli do Prahy předvést závěry svého výzkumu a praktické zkušenosti. Kromě Německa a České republiky byli na kongresu přítomni vědci, výzkumníci, inženýři z firem a studenti z Polska, Itálie, Číny, Maďarska, Francie, Velké Británie, Spojených států, Ruska, Japonska a mnoha dalších.
ERA, která je významným hráčem mezi firmami vyvíjejícími pasivní radiolokační systémy a jako taková je v "radarové komunitě" známá, kongres nejen podpořila jako hlavní partner, ale vyslala i několik svých expertů, kteří se aktivně účastnili přednáškového programu. Vojtěch Stejskal v rámci hlavního panelu přednesl příspěvek "Renesance radarového údolí" s narážkou na Pardubice, které jsou občas v nadsázce nazývané sillicon valley v elektrotechnice. Další přednášející z Česka a zároveň spoluorganizátor kongresu, profesor Jiří Veselý z Univerzity obrany, toto téma dále rozvinul: tématem jeho přednášky byla historie sledování radarem v České republice. Druhým zástupcem ERA s vlastním vkladem byl vývojový pracovní Tomáš Shejbal, který v rámci jednoho z panelů popsal vývojový projekt firmy v oblasti pasivní koherentní lokace.
Kromě toho ERA ve foyeru hotelu postavila improvizovaný stánek s po-up stěnou a během přestávek informovala zájemce z řad účastníků kongresu o svých technologiích.
IRS má za sebou 19letou historii. Ze začátku se konal kongres pouze v Německu, počínaje Mnichovem v roce 1998, později v Berlíně, Bonnu a Drážďanech. "Později spolupráce s Polskou radarovou společností vyústila ve snahu zapojit radarové experty také z dalších evropských zemí. Od té doby se IRS koná pravidelně v Polsku a v Litvě a nyní nově v České republice, " uvedl zakladatel IRS a president kongresu, profesor Hermann Rohling z Hamburské technické univerzity.
Záměr zorganizovat akci pro změnu v Praze se zrodil ze setkání Rohlinga s Veselým. "Potkal jsem Hermanna a vyjádřil jsem zájem o účast na kongresu a případné zařazení České republiky na seznam potenciálních organizátorů. A najednou co nevidím? Dostal jsem plnou důvěru to zde zorganizovat sám, " řekl v nadsázce Jiri Vesely, letošní oficiální spolupředsedající.
Ve večerních hodinách se program konference přenesl do plesového sálu Slovanského domu, kde se konalo slavnostní udílení cen Christiana Hülsmeyera za výjimečný přínos na poli vývoje radarových systémů.