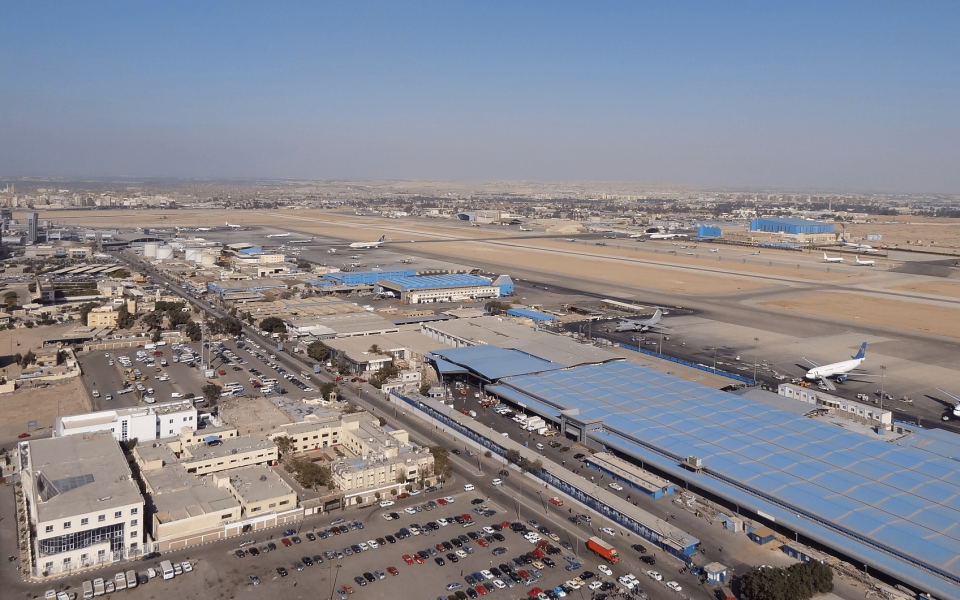 ERA has completed the extension of its MLAT surface guidance system at Cairo International Airport, Egypt
ERA dokončila rozšíření pozemního sledovacího systému na mezinárodním letišti v Káhiře
The Egyptian National Air Navigation Service Company (NANSC), has placed its trust in the ERA multilateration systems again. ERA has recently completed the extension of its surface guidance system at the Cairo International Airport. Currently 37 ERA Multi-Sensor Surveillance (MSS) ground-based stations and 19 pieces of SQUID vehicle tracking units are in operation there to ensure the safety of the important hub in Middle East North Africa region.
Five years ago, Cairo airport awarded the programme for safety to Holland Institute of Traffic Technology, HITT (since 2012 HITT is owned by defence and security company Saab), as the prime contractor for the Advanced Surface Movement Guidance and Control System (A-SMGCS) integrating with the ERA network of MSS sensors and SQUID by ERA vehicle tracking units after an international tender. Recently the system has undergone the extension by ERA, again together with Saab as a Prime contractor. The system is in successful operations from 2011.
The project was originally initiated as a result of Cairo international Airport's rapid growth and the inability of controllers to maintain complete visual surveillance across the entire airport surface.
The airport's mission has been aimed at becoming a passenger and cargo hub for the Middle East North Africa region (MENA). In order to enhance the safe and expeditious flow of traffic at the airport, NANSC ordered an A-SMGCS with a multilateration system which incorporates vehicle tracking. A-SMGCS solution implemented at Cairo airport was provided by HITT in co-operation with ERA and went operational in 2011.
In 2016 another extension of ERA´s Multi-sensor Surveillance System was implemented, currently with 37 ground stations covering the approximately 37 square kilometres of the airport. There are also 19 SQUID vehicle tracking units by ERA functioning to support the surface traffic surveillance. A unique feature of this implementation is its reliance on a network of Motorola Canopy wireless links to convey positional data from ground stations to central processing using an encryption algorithm.
On Cairo airport
Cairo International Airport (CAI) is the busiest airport in Egypt. It is located northeast of the city and is administered by the Egyptian Holding Company for Airports and Air Navigation. Cairo International is the second busiest airport in Africa after Tambo International Airport in Johannesburg, South Africa. The airport has three runways and four terminals, with the third (and largest) opening in 2009 and the Seasonal Flights Terminal opening in 2011.
Egyptské řízení letového provozu NANSC svěřilo s důvěrou extenzi letištního multilateračního systému v hlavním městě Káhiře opět české společnosti. Po pětiletém bezchybném provozu původního systému z roku 2011 nyní ERA rozšířila síť stanic na zatím konečných 37. Pozemní stanice MSS doplňuje 19 majáčků SQUID umístěných na střeše letištních servisních vozidel. Obě technologie MLAT I ADS-B zlepšují bezpečnost letového provozu v tomto významném "leteckém přístavu", jednom z nejdůležitějších v regionu severní Afriky a Středního východu.
Před pěti lety Egyptské mezinárodní letiště svěřilo projekt vybavení letiště řidícím systémem A-SMGCS nizozemské společnosti HITT (Holland Institute of Traffic Technology, nyní Saab). HITT zvítězil v tendru jako primární dodavatel, ERA coby sub-kontraktor dodala sledovací sensory a vysílače pro monitorování vozidel.
Projekt vybavení Káhirského letiště těmito technologiemi byl iniciován kvůli rapidnímu růstu letiště a zahušťování provozu, který již kontroloři nebyli schopni na dostatečné úrovni bezpečnosti zvládat jen vizuálním přehledem. Vedení letiště se rozhodlo investovat, a stát se jedním z nejdůležitějších uzlů letecké přepravy v oblasti známé jako MENA (Middle East North Africa region). Řešení dodané HITT a ERA k posílení plynulosti přepravy - jak zboží, tak pasažérů - začalo fungovat v roce 2011.
Nyní se situace opakovala a osvědčená dvojice dodavatelů provedla i rozšíření systému, takže 37 stanic nyní sleduje plochu letištního areálu o velikosti 37 kilometrů čtverečních. Unikátní součástí dodaného řešení je bezdrátová síť linek od Motoroly, která propojuje jednotlivé pozemní stanice s centrální stanicí pomocí kódovaného algoritmu.
O Káhirském letišti
Mezinárodní letiště v Káhiře je největší letiště v Egyptě. Nachází se 15 km severovýchodně od obchodní části egyptského hlavního města a je to druhé největší letiště na africkém kontinentu po letišti Tambo v Jihoafrické republice. Letiště má čtyři terminály a tři rovnoběžné vzletové a přistávací dráhy a slouží jako hlavní základna pro společnost EgyptAir. Mezi lety 2009 a 2010, kdy bylo rozhodnuto o vybavení novými technologiemi včetně systému od ERA, vzrostl počet cestujících o 12 procent, počet manévrů letadel o 8 procent.