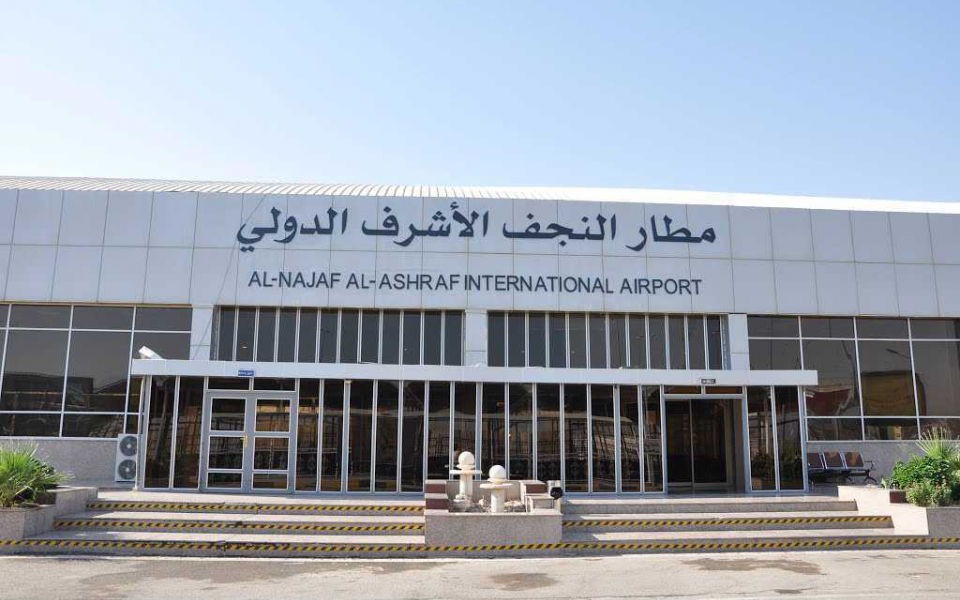 ERA has signed a new contract to cover the terminal area of Najaf International Airport, Iraq
ERA podepsala smlouvu s vedením iráckého mezinárodního letiště Najaf. Bude sledovat letový provoz v jeho okolí
ERA announced having been awarded a contract to deliver a composite multilateration and ADS-B system for surveillance of aircraft approaching Najaf International Airport, covering the lower flight level to an extension of 50 NM.
ERA will supply five MLAT stations with ADS-B functionality as a modern solution for Najaf Tower Control Centre. The contract was signed by the Najaf Airport Authority in Prague in September as a result of a tendering process which ERA successfully won.
One of the priorities of Najaf Airport has been to cover their Terminal Approach Area. The installation of a new system by ERA should serve to improve the low flight level coverage at Najaf Airport and provide a supplement for data obtained up until now from the FIR (Flight Information Region) radar.
ERA as the primary contractor will deliver its NEO by ERA multi sensor surveillance system – the 4th generation of the certified mature system MSS, a composite solution of multilateration and ADS-B. This multi-solution system (MLAT, WAM, ADS-B, PRM, HMU) has a robust system design, enhanced signal detection, reduced power consumption and is international standards compliant (ED-117A, ED 142, ED 129, ICAO Annex10 volume IV, etc.). ERA will also supply its new ATM system ERIS.
The team of ERA experts carried out a site survey and chose appropriate locations for the stations during the autumn. The final completion, followed by the Site Acceptance Tests, is planned for the autumn of 2017.
About the city of Najaf
Najaf, reputedly founded in 791 A.D., is a city in central Iraq south of the capital Baghdad. Its estimated population in 2013 was 1 million people. Najaf is considered sacred by Muslims as the site of the tomb of Imama (Alī bin Abī Tālib). The city is now a pilgrimage site for people from throughout the Islamic world. As the one of burial site of Islam's most important figure, the Imam Ali Mosque is viewed as one of the most holiest Islamic site in the world.
Zástupci zákazníka pod vedením šejka Fead Al Shammari se sešli s vedením ERA v budově její pražské pobočky na Václavském náměstí a podepsali kontrakt, který je výsledkem výběrového řízení, které ERA vyhrála. Na jejím základě dodá firma do Iráku pět stanic, které budou schopny pokrýt vzdušný prostor do vzdálenosti 100 kilometrů od letiště ve městě Najaf, které je známým poutním místem.
Management letiště v Najafu se rozhodl pořídit multilaterační technologii pro dispečery na kontrolní věži, aby získali vlastní, nezávislý přehledový systém přistávajících a odlétajících letadel. Dosud měli k dispozici pouze data ze systému umístěného na 160 kilometrů vzdáleném letišti v hlavním iráckém městě Bagdádu. Dispečeři ovšem neměli k dispozici přehledovou informaci v nižších letových hladinách, protože krajina mezi Najafem a Bagdádem tvoří překážku pokrytí tímto radarem, měli pouze vizuální přehled o blížících se letadlech z věže, což přestávalo vzhledem k zahušťování letového provozu stačit.
Z hodnocení nabízených řešení pro zajištění potřebné bezpečnosti buď pomocí nového radaru, nebo alternativní technologie multilaterace vyšel vítězně ERA WAM (Wide Area Multilateration) systém. Kromě sledovacího systému dodá ERA také displeje se zobrazovacím softwarem ERIS. Projekt Najaf je nyní ve fázi provádění obhlídky místa pro vhodné rozmístění stanic odborníky ERA z oddělení projektového inženýrství a konstrukce. Do roka by měl být systém instalován a proběhnout závěrečné testy na místě.
O městě Najaf
Najaf je druhé nejvýznamnější letiště v Iráku po letišti v hlavním městě Bagdádu, odbaví 15 tisíc letů a milion pasažérů ročně. Popularita této destinace zvláště pro cestující z muslimských zemí spočívá v tom, že město Najaf je třetí nejposvátnější místo islámského náboženství po Mekce a Medině. Je zde pochován Imám Ali, nejvýznamnější persona šíitské odnože islámu, a k jeho hrobu v místní mešitě se pořádají významné poutě pro tisíce lidí.