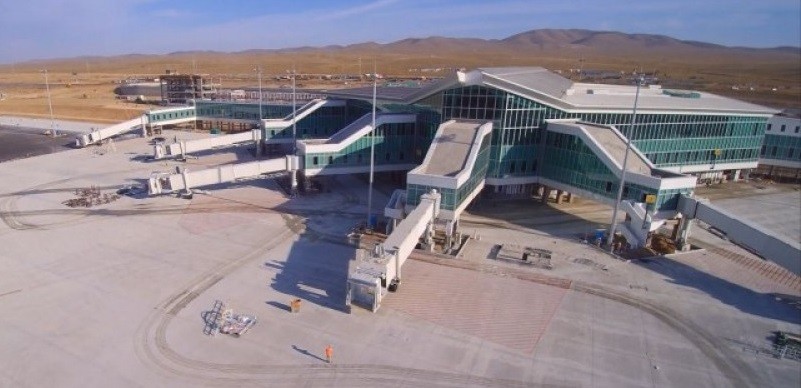 ERA Has Signed a New Contract to Provide a Surface Multilateration System for the New Ulaanbaatar International Airport (NUBIA), Mongolia
ERA přidala na seznam zákazníků Mongolsko. Její sledovací systém bude používat letiště v hlavním městě Ulánbátaru
ERA announced having been awarded a contract to deliver a surface multilateration system for the New Ulaanbaatar International Airport.
ERA in consortium with ACH Holding LLC, a well-known Mongolian company, will supply and install a multilateration system for a brand new international airport in Ulaanbaatar as part of the NUBIA Construction Project led by Mitsubishi-Chiyoda Joint Venture (MCJV).
The herein mentioned multilateration surface system is intended for surface surveillance of the aircraft as well as vehicles, equipped by an ERA ADS-B beacon, to provide safety and operational enhancement of ground surveillance for the Mongolian Civil Aviation Authority (MCAA), who will be the end user of the system, at the New Ulaanbaatar International Airport.
The proposed multilateration system based on NEO by ERA represents a modern, flexible and certified ATM surveillance system that can be easily further extended, once the second RWY is finalized. Generally, the multilateration system can be easily accommodated to any surveillance requirement, while maintaining low maintenance costs.
"Our joint delivery of the multilateration system for NUBIA together in consortium with ACH Holding LLC is another important reference for ERA, demonstrating our leading position in the ATM domain focused on surveillance," stated Viktor Sotona, ERA Managing Director. He added: "In addition to another significant reference in Asia, we are pleased to participate in this interesting construction project led by a Japanese Joint Venture, where the quality of the products play a significant role in the project execution."
The largest international air facility in Mongolia has been Chinggis Khaan International Airport, serving Ulaanbaatar, situated 18 km southwest of the capital. The new airport is due to be opened in Khoshigt Valleyn in 2016 -2017, 52 kilometres south of the city centre. The ERA system is planned for this larger airport currently under construction.
polečnost ERA oznamuje, že podepsala smlouvu na dodávku systému pro sledování letového provozu na mezinárodním letišti v hlavním městě Mongolska Ulánbátaru.
ERA bude na projektu spolupracovat v konsorciu s mongolskou firmou ACH Holding LLC. ERA dodá a společně nainstalují tvz. multilaterační sledovací systém, který napomůže zvýšení přehlednosti na zbrusu novém letišti, jež má být na přelomu roku otevřeno poblíž mongolské metropole. Celý projekt jménem NUBIA vede japonská joint venture společnost MCJV spojující firmy Mitsubishi a Chiyoda.
Zmíněný systém, který bude schopen sledovat pohyby všech letadel po letištní ploše, dále doplní majáčky SQUID pro přesnou identifikaci polohy servisních vozidel. Tím se zlepší bezpečnost a efektivita řízení v areálu letiště, což byl hlavní požadavek koncového zákazníka - Mongolského řízení letového provozu.
Navržený systém, se kterým ERA zakázku získala, je moderní certifikovaný systém poslední generace NEO by ERA, jehož výhodou je, že může být kdykoliv podle potřeby rozšířen o další stanice, jakmile bude na ulánbátarském letišti dokončena další ranvej. Multilaterační systém se totiž dokáže lehce přizpůsobit změně v dispozicích jakéhokoliv letiště dle požadavků provozovatele, přičemž si zachová nízké pořizovací náklady.
"Společný projekt s mongolskou stranou je další důležitou referencí v této části Asie, dokazující vedoucí pozici naší firmy na poli leteckých sledovacích systémů," uvedl generální ředitel ERA Viktor Sotona a dodal: "Navíc nás velmi těší, že jsme byli přizvání k projektu vedeného japonskými firmami, které jsou proslulé kvalitou dodaných technologií i efektivitou řízení projektů."
Leteckou dopravu pro hlavní město Mongolska dosud zajišťovalo Čingischánovo mezinárodní letiště situované 18 km jihozápadně od jeho centra. Na přelomu 2016 a 2017 má být zprovozněno nové, větší letiště pro Ulánbátar v údolí Chošigt ve vzdálenosti 52 km jižně. Toto nové letiště bude vybaveno systémem od pardubické firmy ERA.