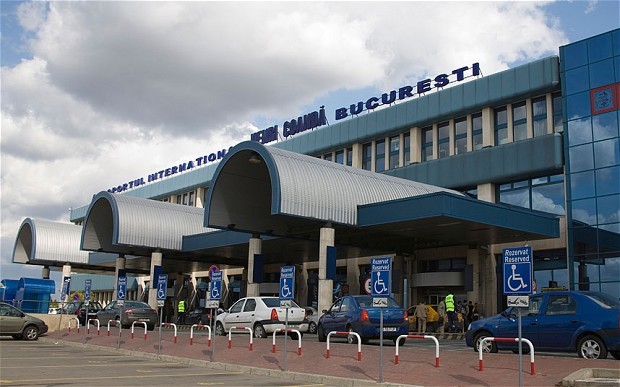 ERA has supplied 150 SQUID vehicle tracking units to Bucharest Henri Coanda International Airport
ERA dodala 150 SQUIDů pro letiště Otopeni v rumunské Bukurešti
The Bucharest Henri Coanda International Airport, Romania, has announced the delivery of 150 vehicle-mounted SQUID transmitters by ERA Company to be used as its surface vehicle tracking system. The contract was awarded to ERA after an international tendering process and was assigned by officials of the Bucharest airport.
"We are very pleased with the performance of the SQUIDS vehicle tracking units by ERA already in use at Bucharest Henri Coanda International Airport. It meets all the international standards as well as the custom requirements created by the client to customize the system to specific needs," stated Ramona Preoteasa, the Director of the Acquisition Department.
The newly deployed system improves the situational awareness of the ground operations and the efficiency of the runways, the apron, taxiways and parking gates. The ERA-designed SQUID self-contained vehicle tracking unit ensures airport safety by continuously broadcasting the exact position of all ground vehicles, for instance tugs, de-icing equipment, and fire and rescue vehicles.
Each vehicle is clearly and uniquely identified so the control tower obtains a much better overview of the movement of the ground vehicles on the airport surfaces. The design of the equipment provides easy integration and interoperability with any other multilateration or ADS-B system based on the ICAO Annex 10 defined Mode S Extended Squitter datalink.
SQUID by ERA also fully supports the concept of area management in order to limit non-essential transmissions. The system allows operators to define discrete boundaries outside of which the SQUID unit would shut down.
About Bucharest Airport
Bucharest airport, officially named Bucharest Henri Coandă International Airport, is Romania's busiest airport. It is located in Otopeni, 16.5 km north of Bucharest's city centre. The airport serves as headquarters for TAROM, the country's national airline and Tiriac Air. It is currently one of the two airports serving the capital, with the other being Aurel Vlaicu Airport. Both airports are managed by Bucharest Airports National Company. In 2012 all Bucharest air traffic except for business was transferred to Henri Coanda Airport, which resulted in a 41% increase in passengers. In 2015 Henri Coanda Airport's air traffic exceeded nine million passengers. The airport is named after the Romanian flight pioneer and aeronautical engineer Henri Coandă, the builder of Coandă-1910 aircraft and the person who discovered the Coandă effect of fluidics.
Bukurešťské mezinárodní letiště Otopeni si jako sledovací systém pro přesné určení polohy svých servisních vozidel vybralo ve velké konkurenci výrobek firmy ERA. Majáček SQUID, kterých po světě jezdí již přes 5000, je nejrozšířenějším vysílačem na principu GPS na světě. Na letišti v rumunském hlavním městě jich nedávno začali využívat 150. Smlouva byla podepsána na základě vítězství pardubické firmy ERA v mezinárodním tendru.
"Letištní MLAT systém o sedmi stanicích funguje na Otopeni bezchybně již od roku 2010. Nyní se náš zákazník přesvědčil, že SQUID je jeho nezbytným a užitečným doplňkem. Díky této dobré zkušenosti nám dali přednost před všemi ostatními výrobci i renomovaných jmen," uvedl generální ředitel ERA Viktor Sotona.
Rumunskému zákazníkovi se líbilo, že kromě základní funkce SQUIDu, jíž je identifikace všech tahačů, autobusů, follow-me aut apod. pohybujících se v prostoru letiště, je možné také přesně vytýčit zónu, v níž budou majáčky zapnuty. Mimo ni systém přestane vysílat, čímž se omezí zatěžování prostoru nadbytečným signálem na minimum.
SQUIDy pro Bukurešť nejsou zdaleka první dodávkou systémů ERA do Rumunska. Kromě letištního systému na Otopeni ERA již dříve instalovala a několikrát rozšiřovala WAM přehledový systém pro koncové řízené oblasti tří dalších velkých letišť: Napoca u města Kluž, Sibiu a Targu-Mures. Centrální stanice pro zpracování dat z 23 WAM stanic je umístěna rovněž na letišti v Bukurešti. Rumunské řízení letového provozu ROMATSA si tento systém objednalo, aby jeho operátoři získali možnost sledovat letadla až do 200 metrů nad zemí, čímž se zdokonalilo jejich navádění na přistání. To ocení zejména v oblasti Kluže, kde je viditelnost letadel v nižších letových výškách ztížena kvůli hornaté okolní krajině.
Bukurešťské mezinárodní letiště se oficiálně jmenuje letiště Henriho Coandăy, což byl rumunský vynálezce, průkopník aerodynamiky a stavitel prvního tryskového motoru pro letadla. Známější je však pod názvem Otopeni, podobně jako pražská Ruzyně. Leží 16.5 km severně od centra hlavního města a je domovskou základnou pro rumunské státní aerolinky TAROM. Druhé bukurešťské letiště se nazývá Aurel Vlaicu, slouží však jen k přepravě zboží. Veškerá přeprava pasažérů byla v roce 2012 přesměrována na Otopeni, čímž se počet cestujících zvýšil na devět milionů ročně.