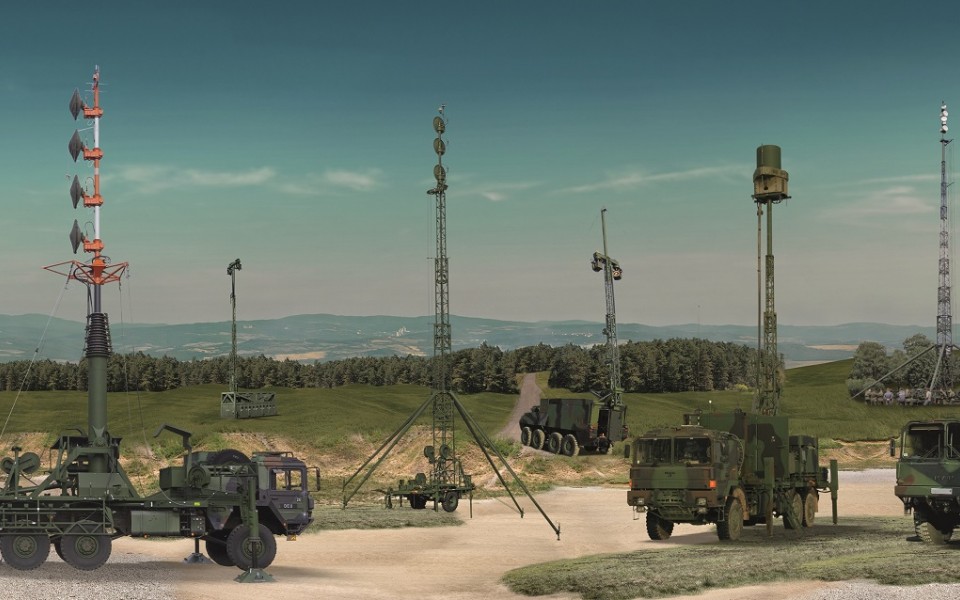 ERA in cooperation with the German company SMAG introduced a new antenna mast for its VERA-NG
ERA vylepšila svůj systém VERA o nový stožár na anténu. Dodá jí ho německá firma SMAG
ERA is pleased to announce the first results of cooperation with the German manufacturer SMAG which supplies its new mast system type Ftm 25/6 in order to complement ERA's unique passive reconnaissance and surveillance system VERA-NG.
The objective of this project has been to connect both products in an optimal way. The passive radar system VERA-NG by ERA, and the container and mast for its antenna from SMAG work together as one unit. This state of the art technology permits maximum mobility on rough terrain. During transport, the entire system is protected and invisibly stored in a military shelter container. The prototype is due to be finished in Q1/2017 and be ready for first deliveries at the end of this year.
"We recognise ERA as a high-tech company with unique experience in passive radar systems. We believe that our close cooperation will help to find new customers for our joined systems," stated Wolfgang Schnelle, SMAG Managing Director.
The great advantages of the new mast system are high payloads up to 1.2 tons with highest accuracy at the mast point, even at high wind speeds without using any kind of guy wires. The masts are fully automated, operable at intermediate heights, and ready for any type of mission after a very short installation time.
The passive EMS Tracker Vera-NG is a self-learning ELINT system and can be perfectly complemented with the reliable SMAG antenna mast. The new compact mast unit is integrated into a standard 20'-container and ideally supplements the wide range of SMAG Mobile Antenna Masts.
"We are pleased to participate in this interesting construction project led by this German company, where the quality of the products plays a significant role," stated Viktor Sotona, ERA Managing Director.
The Mobile Antenna Masts are manufactured in Salzgitter, Germany as of the beginning of 1974. Over 1900 masts are in successful operation worldwide for military missions such as communication, observation, surveillance, as well as for disaster management.
About SMAG Mobile Antenna Masts GmbH
SMAG Mobile Antenna Masts GmbH (SMAM) a subsidiary of Salzgitter Maschinenbau AG, is the unique manufacturer of Mobile Antenna Masts worldwide up to a height of 40 m without using any kind of guy wires. The Mobile Antenna Masts are globally used for disaster and military operations, for mobile communication, radio and broadcasting transmissions. The mast systems are tailor made and can be mounted e.g. on trailers, trucks, containers, armoured vehicles and platforms.
About Salzgitter Maschinenbau AG
Salzgitter Maschinenbau AG (SMAG) is the holding company of a German group of mechanical engineering companies with factories in Germany, China, India and Slovakia where grabs for loading and unloading seagoing cargo vessels, fully equipped driver cabins, automated drilling technology for the open-pit and underground mining industry, special-purpose vehicles for the process industry as well as mechanic and hydraulic telescopic antenna masts are developed and manufactured.
www.smag.de
Mezinárodní spolupráce pardubické společnosti ERA s firmou SMAG ze Salzgitteru přinesla první výsledky. Německý výrobce doplnil český unikátní sledovací systém VERA-NG o poslední typ svého speciálního výsuvného stožáru. Systém bude premiérově představen veřejnosti pozítří na veletrhu obranných technologií IDET v Brně.
Cílem společného výzkumu obou firem bylo optimálně propojit oba výrobky tak, aby anténa a stožár fungovaly dohromady jako jediný efektivní systém. To umožní maximální mobilitu a rychlé nasazení pasivního radaru VERA-NG i v drsném terénu. Během transportu je celý systém chráněn - uschován ve společném krytém kontejneru. Prototyp již je hotov a první dodávky lze očekávat koncem roku.
"Považujeme společnost ERA za technologicky vyspělou firmu s jedinečnou zkušeností na poli vývoje pasivních radarových systémů. Věříme, že naše úzká spolupráce pomůže najít pro nově vzniklý systém další zákazníky," uvedl Wolfgang Schnelle, generální ředitel společnosti SMAG.
Největší výhodou nového stožáru je jeho užitné zatížení až do 300 kilogramů s nejvyšší možnou přesností umístění vrcholové části, která se nevychyluje ani při vysoké rychlosti větru, aniž by bylo potřeba používat jakákoli kotvící lana. Stožár je plně automatický, dá se ovládat i vysunutý do střední polohy a po velmi krátké instalaci je ihned připraven k nasazení v terénu při případné misi. Stožár se tak jeví být perfektním doplňkem pardubického systému VERA-NG, který má velmi podobné flexibilní užitné vlastnosti oceňované zákazníky z řad armádních sil v mnoha zemích.
"Jsem potěšení účastí v tomto zajímavém projektu vzniku společného systému. Věříme v ten nejlepší výsledek, protože kvalita výrobků německých firem je pověstná," řekl generální ředitel ERA Viktor Sotona.
Mobilní anténní stožáry se vyrábějí v německém městě Salzgitter poblíž Hannoveru již od roku 1974 a ve vojenských jednotkách po světě jich funguje přes 1900. Jsou unikátní svou výškou až 40 metrů bez kotvících lan a používají se při vojenských operacích, při řešení přírodních katastrof, pro vysílání a rádiovou komunikaci. Jsou přizpůsobeny různým druhů použití, takže mohou být umístěny jak na podstavcích a v kontejnerech, tak na nákladních autech či obrněných vozech.