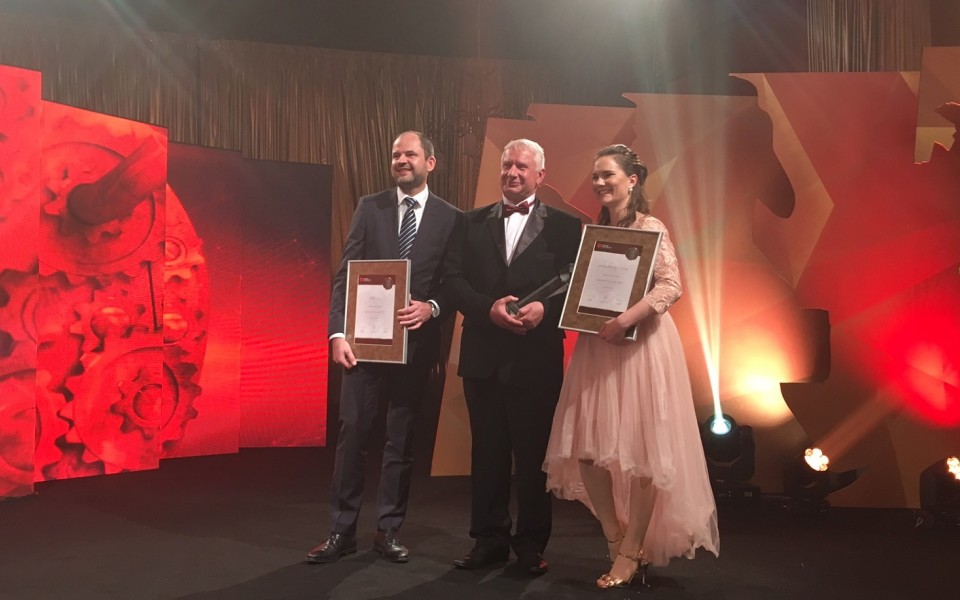 ERA obtained a silver medal in The Czech Company of the Year competition
ERA je stříbrná v soutěži Firma roku České republiky
ERA obtained a silver medal in The Czech Company of the Year competition. In a broad competition involving 3,600 companies, ERA scored second best in the final. They were one of the 14 regional finalists after winning the title Company of the Year in its own region. The winner was the company Frentech Aerospace from Brno producing precise components for satellites. As the Managing director Viktor Sotona pointed out at the award ceremony in Prague: "ERA is a producer of air traffic management technologies, so it sounds logical it was only defeated by a company producing equipment used in the cosmos."
The silver medal crowned a remarkable year of public recognition for ERA. The company received several other awards: The Most Successful Company of the Pardubice Region, The 100 Top Stable Companies of the Czech Republic, The Corporate Responsibility Award and The Building of the Year for its new headquarters.
The Company of the Year competition and the related Tradesman of the Year are organized by the Czech main daily, the newspaper Hospodářské noviny (Economic News) and supported by the international mobile operator Vodafone and the country's oldest and most respected bank Česká spořitelna. The companies have to be nominated by local authorities or institutions, ERA was nominated by the trade and investment agency CzechInvest.
ERA obsadila stříbrnou příčku v soutěži Firma roku České republiky 2017. Na slavnostním vyhlášení výsledků celostátního kola 6. prosince v Praze na Žofíně převzal cenu generální ředitel Viktor Sotona. ERA uspěla mezi 3600 zúčastněnými firmami a umístila se ve finále druhá ze 14 nominovaných výherců ze všech krajů. První byla rodinná firma Frentech Aerospace z Brna, která vyrábí přesné komponenty do družic.
"Naši společnost vyvíjející technologie pro řízení letového provozu předstihla pouze firma, jejíž výrobky "létají" v kosmu," řekl v nadsázce Viktor Sotona.
Celkem se podnikatelských soutěží Firma roku a Živnostník roku vyhlašovaných deníkem Hospodářské noviny ve spolupráci s firmami Vodafone a Česká spořitelna zúčastnilo 6500 soutěžících. ERA byla navržena agenturou CzechInvest.
"Když jsem byl vyzván, abych nominoval firmy za Pardubický kraj, byla ERA moje první volba. Nejenže je dlouhodobě úspěšná, ale letos navíc otevřela své vývojové centrum. Chlubím se kolegům, že naše nominace uspěla a ERA se dostala v soutěži až na stupně vítězů," uvedl ředitel Regionální kanceláře Pardubice agentury CzechInvest Tomáš Vlasák.
Stříbrná medaile v republikové soutěži korunuje rok, ve kterém společnost získala několik dalších cen na krajské úrovni: Ekonomicky nejúspěšnější firma Pardubického kraje, Stavba roku 2017 a naposledy před několika dny titul Společensky odpovědná firma za příkladný postoj v oblasti charity a podpoře společnosti.