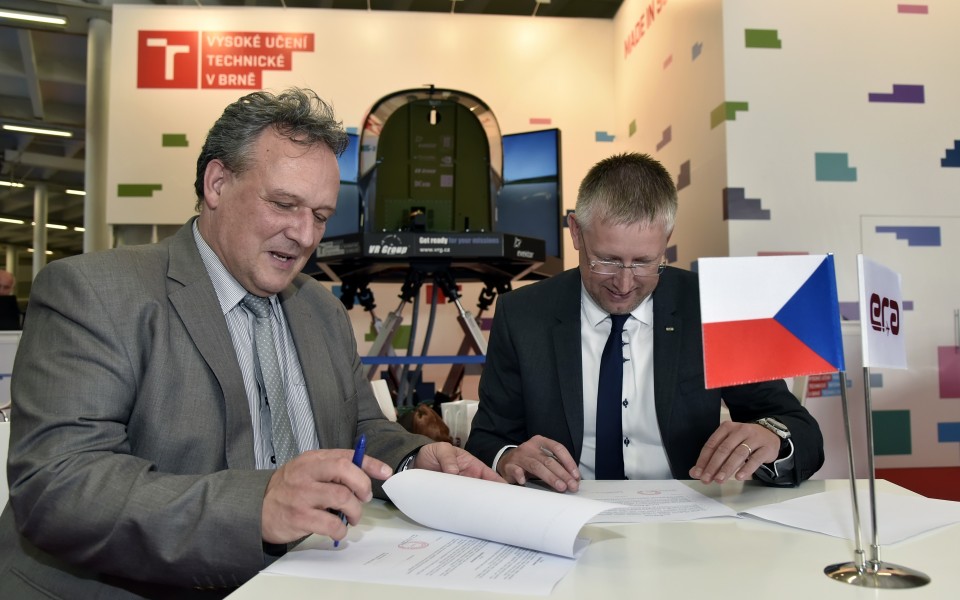 ERA Signed an Agreement of Cooperation with yet Another Technical University
ERA se dohodla na spolupráci s FIT VUT. Mezi jejími studenty hledá "mladou krev" pro svůj výzkum
ERA would like to announce the signing of an agreement for future cooperation in research and development with Faculty of Information Technology (FIT) of Brno University of Technology (VUT). This agreement involves a partnership between FIT VUT and ERA Pardubice regarding the R&D activities and exchange of information especially in the field of civil and military air surveillance systems and other applications of information technologies.
ERA is in constant search of young talented people and support of activities such as school competitions and scientific conferences is part of ERA's official HR policy as well as cooperation with the educational institutions that have traditionally educated highly valued and needed experts.
Apart from FIT VUT and anther VUT faculty (Faculty of Electrical Engineering and Communications), ERA has subsidized the Secondary School of Electrical Engineering based in ERA's hometown Pardubice, the Faculty of Electrical Engineering and Informatics of University of Pardubice, the University of Hradec Kralove and the Department of Air Defence Systems of the Faculty of Military Technology of the University of Defence in Brno.
FIT VUT provides education and research in the field of information technology. The faculty consists of four departments, computer centre and research centre. The research is conducted by FIT academic staff, researchers employed by FIT, students of the Ph.D. degree programme and also students of the final year of Master studies. FIT is active in a number of research projects.
Pardubická firma ERA, výrobce systémů pro sledování letového provozu, uzavřela spolupráci s Fakultou informačních technologií Vysokého učení technického v Brně. Smlouvu o budoucí spolupráci v oblasti smluvního výzkumu, vývoje i vzdělávání podepsali děkan FIT VUT Pavel Zemčík a marketingový ředitel ERA Milan Starý v rámci Mezinárodního strojírenského veletrhu 2016, minulý týden na brněnském výstavišti.
Společným cílem obou institucí jsou konkrétní výzkumné a vývojové projekty, ale i výměna informací v oboru civilních a vojenských technologií pro sledování letového provozu. ERA si navíc od spolupráce slibuje možnost získávat pro obor pasivní radiolokace nadějné talenty z řad studentů ještě během studia. Je to součástí dlouhodobé firemní náborové strategie žádoucích expertů, které ERA permanentně hledá. Za poslední dva roky počet jejích zaměstnanců vzrostl o 50 procent.
Spolupráce s FIT VUT zdaleka není první, kterou ERA s vysokoškolskými institucemi navázala. V minulých letech začala úzce kooperovat také s Univerzitou Obrany v Brně, Univerzitou Pardubice, Univerzitou Hradec Králové a s další součástí VUT – Fakultou elektrotechniky a komunikačních technologií.