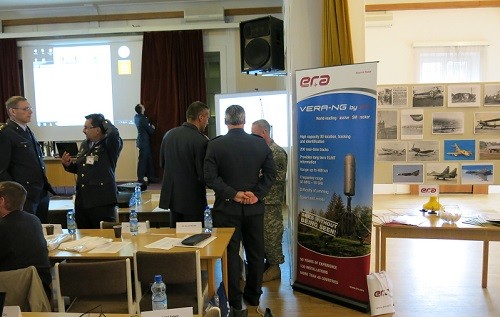 Annual conference PVO 2014 – focus on history of radiolocation
Brno, April 15th – 16th, 2014 ERA Company became a partner of the PVO 2014 conference in Brno in mid April. The event was organised by the Department of Air Defence Systems at the club of the Faculty of Military Technology of the University of Defence in Brno. This year the highlight topic was the history of radiolocation in the Czech lands and abroad.
ERA participated as one of the partners along with other prominent producers of defence and security technologies such as Indra, ALES, ELDIS and Retia. The marketing activities comprise a military showreel video presentation and the distribution of company portfolio collaterals. ERA also had two active conference participants - Libor Slezák from the Sales Department, who delivered the lecture "Radiolocation beginning and continuing", and the Project Manager Martin Cejchan lecturing on ERA's newest project "The Provision of the Deployable Passive ESM Tracker (DPET) for Air C2 Surveillance and Identification" for NATO. The Deputy Commercial Director of Omnipol Ivan Polednik was also present at the event to discuss defence issues with other participants.
The Department of AD Systems makes up one of the research/pedagogic work centres of the Faculty of Military Technology. It is tasked with preparing university-graduate specialists of Air Defence Troops for the combat utilization of weapon systems and Air Defence units, using automated command and control systems.