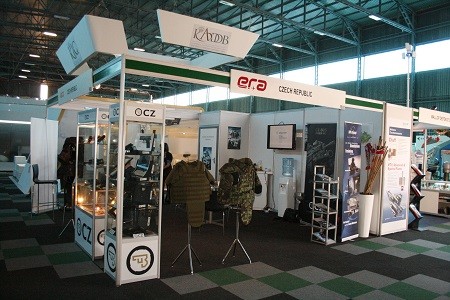 ERA accented its presence in African market by attending AAD 2014 in South Africa
Johannesburg, South Africa, September 17 – 19, 2014 ERA exhibited at AAD 2014 - 8th year of Africa Aerospace and Defence Exhibition - organized in AFB Waterkloof, Centurion, City of Tshwane, South Africa on September 17 – 19, 2014. The company presented its portfolio of military and ATM products in cooperation with other Czech companies LOM Praha, VR Group and Česká zbrojovka under auspices of the Ministry of Foreign Affairs of the Czech Republic. Also Ms Blanka Fajkusová, the Czech ambassador in South Africa was present.
ERA exhibited alongside additional important companies producing defence and security equipment. ERA Company representatives held a number of business meetings with their current and potential partners in strong belief that an investment in exhibiting at AAD2014 will pay off in the long run.
So called Premier exhibition of air, sea and land technologies on the African continent gathered 347 exhibitors from 26 countries exhibiting in 7 hangars and 15 national pavilions. AAD 2014 hosted a good mix of first-timers and repeat exhibitors as well as attendees. All together 40 000 trade visitors from 101 countries visited the show trade in three days. The exhibitions brought together various industries from throughout the world so as to showcase the latest technological innovations in the field.