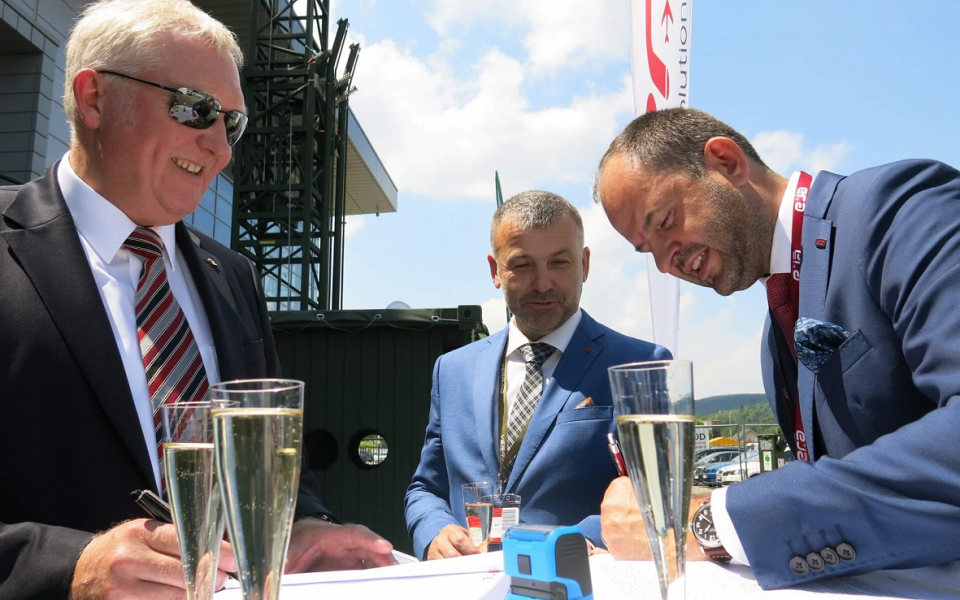 ERA and the German company SMAG have signed a contract for delivery of first batch of container mast systems for DPET VERA-NG
Czech company ERA, the supplier of unique passive surveillance and reconnaissance system VERA-NG, and German manufacturer SMAG have signed a contract for the delivery of container mast systems within IDET exhibition in Brno. The mast prototype has been exhibited at IDET defence and security international fair this week. Further projects and possible deliveries are in a planning stage.
After successful development and delivery of a prototype of new mast system type Ftm 25/6 the managing directors of both companies signed the contract about the delivery of container mast systems in series production. The outlook is positive -there is a great demand for the innovative containerized systems. New further projects are already in progress and both companies are expecting repeat orders.
"We know company ERA since many years now, this company has developed and modified passive radar systems VERA-NG. This surveillance and reconnaissance system has been verified as a very reliable and unique system in the market. Together we have developed a new mobile mast system type Ftm 25/6 Medium, which connect both systems in an optimal way. The complete system is hosted in twenty feet long container, which comes with the mast and it is easy to be transported to any point of mission," stated Wolfgang Schnelle, SMAG Managing Director.
"ERA is pleased to cooperate with such experienced and flexible partner, we really need to differentiate our portfolio of suppliers in order to balance the risks and we are glad that SMAG components perfectly complement our antennas to create one united mobile system," stated Viktor Sotona, ERA Managing Director.
About SMAG Mobile Antenna Masts GmbH
SMAG Mobile Antenna Masts GmbH (SMAM) a subsidiary of Salzgitter Maschinenbau AG, is the unique manufacturer of Mobile Antenna Masts worldwide up to a height of 40 m without using any kind of guy wires. The Mobile Antenna Masts are globally used for disaster and military operations, for mobile communication, radio and broadcasting transmissions. The mast systems are tailor made and can be mounted e.g. on trailers, trucks, containers, armoured vehicles and platforms.
About Salzgitter Maschinenbau AG
Salzgitter Maschinenbau AG (SMAG) is the holding company of a German group of mechanical engineering companies with factories in Germany, China, India and Slovakia where grabs for loading and unloading seagoing cargo vessels, fully equipped driver cabins, automated drilling technology for the open-pit and underground mining industry, special-purpose vehicles for the process industry as well as mechanic and hydraulic telescopic antenna masts are developed and manufactured.
www.smag.de