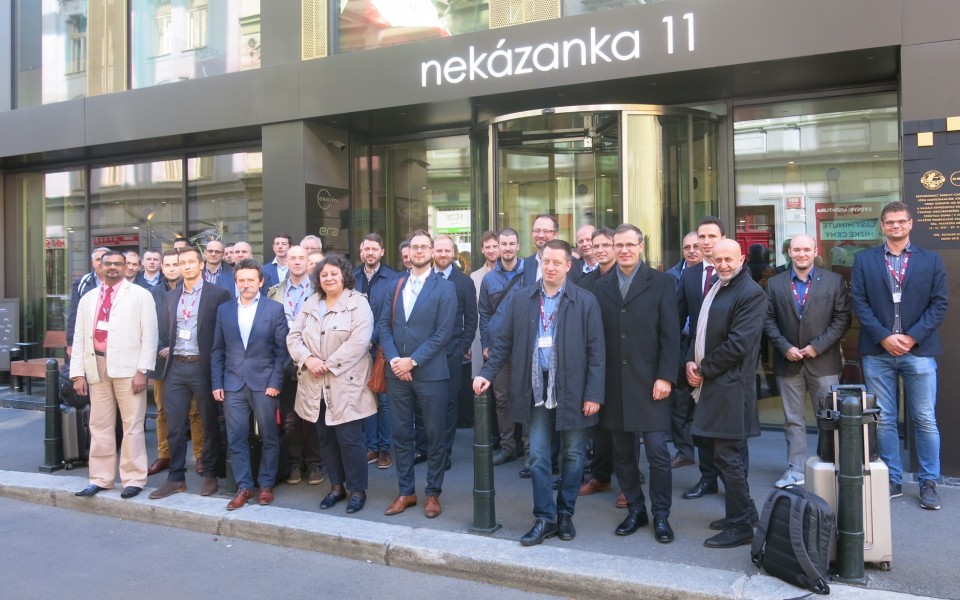 ERA became the host of the ICAS workshop in Prague
The 46th meeting of the ICAS group (International Cooperation on Airport Surveillance) was hosted by ERA company in Prague at the end of October. 48 ICAS member representatives participated in the workshop in total and presented their experience and new projects, including several ERA multilateration specialists.
The ICAS organization aims at providing a forum for industrial professionals in surveillance technologies from all over the world. It brings together project managers, engineers and air traffic and apron controllers to meet and discuss A-SMGCS issues. They exchange their experience with different technologies, procedures and infrastructural constraints.
ERA (a member of the OMNIPOL group) as a major player in the community of surveillance system developers, not only hosted the event but also sent several of its experts including Jakub Thomas, the head of ERA Sales, and Marek Náhlík from ERA's Slovak subsidiary R-SYS, who lectured on ERIS by ERA – the system for ASMGC-S for medium size airports.
The participants appreciated both ERA's hospitality and the magnificence of Prague itself: "The organization process was smooth and professional. Everything was conveniently in walking distance," said Péter Szalóky, ATM Consultant of Hungarocontrol and ICAS conference chairman.
Apart from the Czech Republic, Slovakia, and Hungary, the participants were from 18 other countries: Poland, Germany, Canada, Egypt, France, Bulgaria, Romania, Malaysia, USA, Scandinavian countries, the Baltic states, etc.
A major part of the second day program involved a professional tour to Prague airport kindly provided by the Czech ANSP. The visitors had the possibility to visit the Control Tower, test TWR and Technical Room for a close look at the technologies and procedures used by Czech ATM controllers.
ICAS working groups meetings have been taking place three times a year. Surveillance experts of ERA frequently contribute and provide professional support to ICAS, but for the first time ERA proudly hosted its workshop in its brand new branch office in the Prague city centre.
On ICAS
ICAS is a group of Airports, Air Navigation Service Providers (ANSPs) and Eurocontrol. The scope of the ICAS group is to support them and other organizations in the implementation, integration and exploitation of airport surveillance systems in an airport environment, covering all phases of ground movement. The group also dialogues with the regulatory authorities, R&D institutes and the industry. This makes ICAS the largest know-how pool of operating A-SMGCS worldwide. Currently, the representatives from 45 ANSPs, EUROCONTROL and Airport Authorities are ICAS members, covering 31 countries.