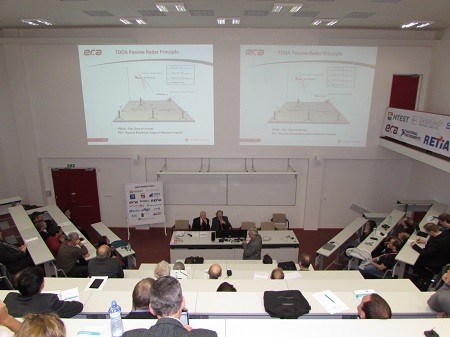 ERA co-sponsored the scientific congress MAREW 2015
Pardubice, April 21–23, 2015 ERA Company co-sponsored the academic congress MAREW at the Faculty of Electrical Engineering and Informatics of University of Pardubice.
Microwave and Radio Electronics Week (MAREW) 2015 is organized by Czech and Slovak technical universities in order to create a discussion forum for researchers, academics, people in industry and students who are interested in the latest developments in the area of radio electronics and related disciplines. The convention consists of two conferences – the 25th International Conference Radioelektronika 2015 and the 14th Conference on Microwave Techniques COMITE 2015.
Libor Slezák, an expert on passive radiolocation from ERA, had a presentation "TDOA based PET Antennas" as an invited paper in the lecturing program of COMITE. This conference section consisted of keynote lectures, oral and poster presentations solicited in various areas: antennas, IT, light waves, propagation, systems (including EMC) and modelling.
ERA presented its portfolio along with other industrial companies from the region such as T.CZ, Retia and Eldis. The companies introduced themselves to the conference participants in a special room during coffee breaks. Apart from datasheets and roll-up, ERA showed its latest developing technology MSPSR in an animated video presentation.