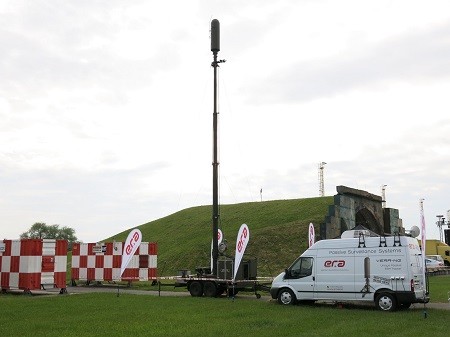 ERA demonstrated the abilities of its VERA-NG system at the Air Force Base in Čáslav
Caslav, May 21 – 23, 2015 ERA participated in the "visitor's day" at the Čáslav Tactical Air Force Base in the Czech Republic in May. The Open Day and Air Show for the public followed immediately after the two week exercise Lion Effort 2015 which brought together Gripen user nations and several other NATO countries to conduct live flying training.
ERA demonstrated the abilities of its passive radiolocation system VERA-NG and MSPSR technology demonstrator. Several of the ERA professionals were part of the trial tracking the flying targets and providing their positional data. The results of the surveillance of JAS Gripen fighters and other aircraft were displayed on a 80" screen outside the ERA stand. The performance of the DPET system VERA was also introduced to the delegation of Lion Effort exercise partakers.
As part of the exercise the pilots trained with Czech Air Force fighters, helicopters and transport aircraft as well as an anti-aircraft missile regiment. The JAS-39 Gripen aircraft taking part in the Lion Effort were from NATO allies Hungary and the Czech Republic and NATO partner Sweden. It was the third exercise of the so-called Gripen Users Group.