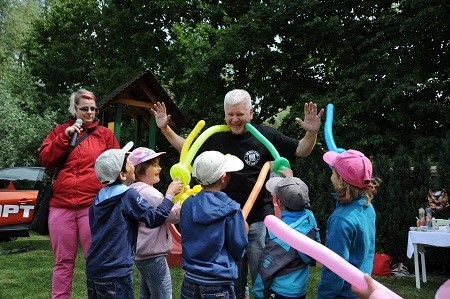 ERA donated to home shelter for kids Klokanek
Pardubice, June 21th, 2014 Fulfilling the corporate responsibility programme ERA company subsidized the charity event "Pardubice Racquet". The 6th year of the tournament was held on the grounds of Pardubice Tennis Club on June, 21st.
The profit made from the event was donated to the home shelter Klokanek for children in difficult life conditions. As a result of the admission fees, sponsorship of regional firms and an auction of famous hockey players´ jerseys (including one from Jaromir Jagr and Robert Reichl), this non-profit, non-government organization obtained CZK 55,000. The event was held under the auspices of the Czech parliament deputy Jiří Skalický.
18 players took part in the actual racquet tournament including handicapped players from the Sledge Hockey Club Mustangs Pardubice and Paralympic team. The competition was enthusiastically cheered by 90 visitors including 9 kids and 3 nannies from Klokanek.