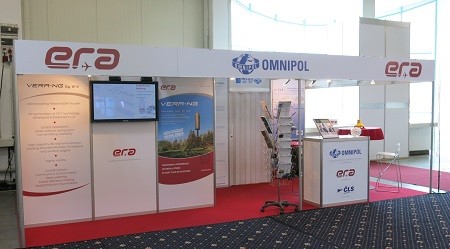 ERA exhibited at IDEB international military fair
Bratislava, Slovakia, May 14th – 16th, 2014 ERA took part in the 5th IDEB international fair at the Incheba Expo fairgrounds in Bratislava (the capital of the Slovak Republic)in the middle of May. The company presented its portfolio of military products in cooperation with another member of the Omnipol Group, Česká Letecká Servisní.
ERA exhibited alongside additional important companies producing defence and security equipment. There were 165 exhibitors from 18 countries in all over an area of 24 thousand square metres. Army General Petr Pavel, Martin Stropnický, the Minister of Defence of the Czech Republic and Tomasz Siemoniak, the Minister of Defence of Poland, were among the VIPs visiting the stand.
The IDEB International exhibition is an international defence industry exhibition and one of Central Europe's most significant fair events of its kind. It features not only the latest achievements in military equipment and armaments but also technologies and systems applied in fields such as logistics, security and rescue. This year's edition of the exhibition was held in the spirit of the 10th anniversary of the accession of Slovak Republic to the North Atlantic Treaty.