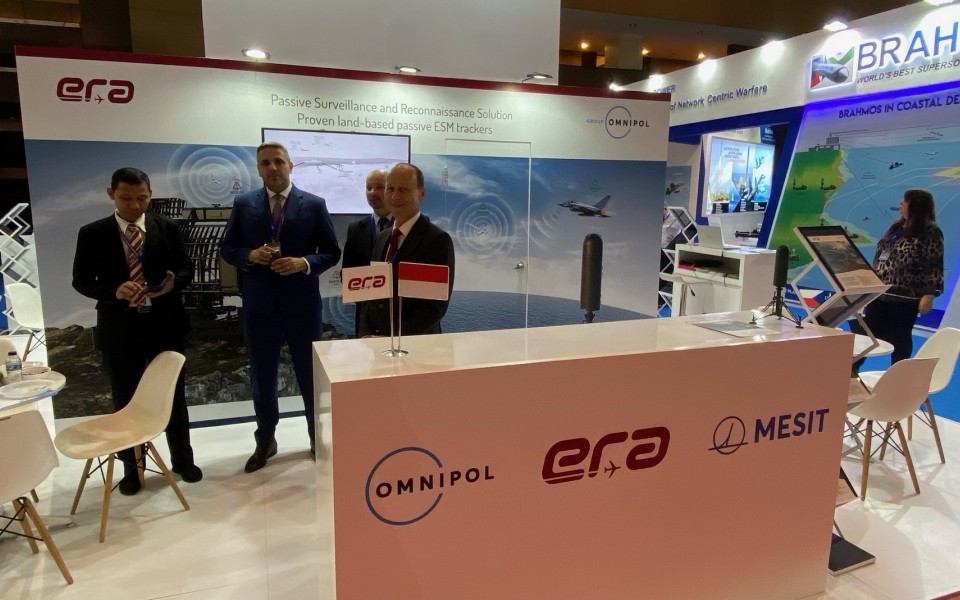 ERA exhibited at Indo Defence fair in Jakarta
The Indo Defence EXPO & FORUM 2022, Indonesia's Tri-Service Defence exhibition, took place at Jakarta International Expo Kemayoran, Indonesia on 1 – 4 November 2022. ERA participated in the event as part of the official Czech exhibition with its parent company OMNIPOL and its other subsidiary MESIT.
ERA introduced its passive surveillance systems VERA-NG and PLESS to a number of distinguished visitors including the officials of Indonesian Army and Air Force, who stopped by the Czech stand in order to learn about the Czech technologies. Representatives of ERA also had the opportunity to conduct negotiations with several other national delegations.
15 Czech companies presented their portfolio along with presentation of DSIA (Defence and Security Industrial Association) at quite busy stand of the Czech Republic organized by CzechTrade. They were further supported by Deputy Minister of Defence Daniel Blažkovec, His Excellence Ambassador of the Czech Republic to Indonesia Jaroslav Doleček and military attaché, Brigadier General Petr Tománek.
The representatives of Indonesian Armed Forces expressed the satisfaction with level of long-term cooperation between Indonesia and the Czech Republic considering the import of defence and security industry products. Indo Defence has been among the most important projects of Czech Ministry of Foreign Affairs within the programme PROPED (Project of Economic Diplomacy).
The nineth year of Indo Defence was covering the complete spectrum of the sector of aviation and maritime industries, which includes airborne, land based & sea based platforms, systems & equipment. Indo Defence fair takes place biannually, this year the largest event in the Asia-Pacific region attracted over 30,000 visitors and 867 exhibitors from 61 countries.