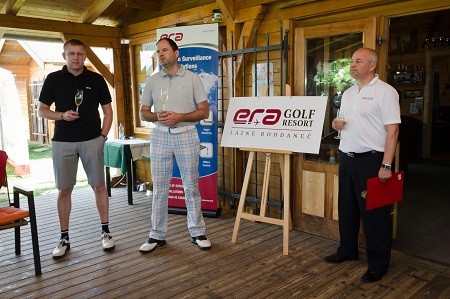 ERA Golf Resort - the birth of a general partnership
Bohdanec Spa, May 23, 2014 The 4th biannual ERA Company golf tournament "ERA Invitational - Spring 2014" was held at the Golf Club resort Pardubice (Lázně Bohdaneč golf course specifically) on May 23rd, 2014. A new partnership was announced at the beginning of the event: ERA has become the major partner of the club and the golf course will now have the name ERA Golf Resort. ERA management prepared this surprise for the company long-term business partners of the golf community.
After a toast by the ERA Managing Director Viktor Sotona and a brief speech by the golf resort manager Jindřich Jebálek, the members of 12 flights began the competition. The players followed the Stableford Scoring System and special tournament competitions included the Nearest to the Pin and the Longest Drive. Representatives from distinguished companies and institutions such as Volvo, City Golf and CS Soft were among the players. Non-registered visitors had the opportunity to practice the game on training greens and a driving range supervised by a professional coach at the so-called Golf Academy.