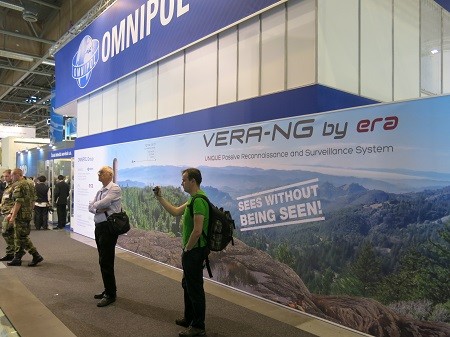 ERA highlighted its unique invention VERA-NG PET technology at IDET fair in Brno
Brno, May 19th – 21st, 2015 ERA took part in the IDET fair at the Brno Exhibition Centre as part of Omnipol Group in mid-May. The highlight of the shared Omnipol/ERA stand was ERA's unique Passive ESM Tracker VERA-NG. The exhibition lasted three days and ERA Company took advantage of the presence of a number of potential customers to present its portfolio of military products and negotiate business issues. A number of journalists also visited the ERA stand in search of information on the advantages of passive radiolocation technology. ERA exhibited alongside additional important Czech and foreign companies producing defence and security equipment such as Tatra, Excalilbur, Česká zbrojovka, etc.
IDET, International Fair of Defence and Security Technology, is one of the largest shows of defence technology in Central and Eastern Europe. Exhibitors present their products to international military delegations and professionals from all over the world. Each event includes a varied accompanying programme in which defence technology experts discuss topical issues.
The traditional complex of three defence and security technology fairs (IDET, ISET, PYROS) introduced novelties by 450 exhibiting companies from 22 countries. The interest in participation corresponded with the current complicated security situation, the increase in risks and the expected higher investment in defence technology. The 13th International Exhibition of Defence and Security Technology welcomed the participation of 331 companies, a tenth more than two years ago. The rich offering brought together more than 26 thousand people interested in advanced defence, security and fire technology to the Exhibition Centre over three days. Visitors came from three dozen countries, with more than a thousand among them from abroad. The Press Centre accredited 162 journalists from eight countries.