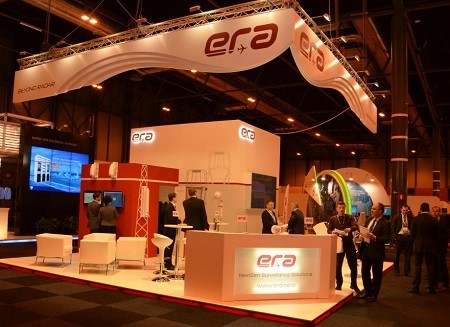 ERA launched its new product NEO by ERA at ATM Congress in Madrid
Madrid, March 4th – 6th, 2014 ERA Company exhibited its proven technologies for aircraft surveillance and their innovations at the World ATM congress – an international exhibition held at IFEMA trade park in Madrid, Spain. This event, organized by CANSO (the Civil Air Navigation Services Organisation), was held from 4th to 6th March 2014.
ERA introduced the newly enhanced next-gen multi-sensor surveillance system NEO by ERA to its respected collaborators as well as to other members of the ATM community during the welcome ceremony organised at the ERA stand. The visitors enjoyed the interactive presentation of NEO on tablet and showreel videos with both showing the advantages of this solution for air traffic specialists and controllers. ERA also participated in the conference programme with a live slot on MSPSR (R)Evolution in multistatic surveillance on the spotlight stage.
The World ATM Congress has exceeded its inaugural show by more than 1,000 attendees in its second year, totalling 6,265attendee registrations by show's end. All sectors of air traffic professionals were in attendance (senior executives, controllers, aviation manufacturers and suppliers, airline executives, military and government, young aviation professionals and aviation trade associations) conducting real business and commercial and strategic discussions.
The event can boast of 128 countries represented at the week, both in attendance as delegates, hall visitors, and exhibiting companies. This is up from 104 countries in attendance last year.