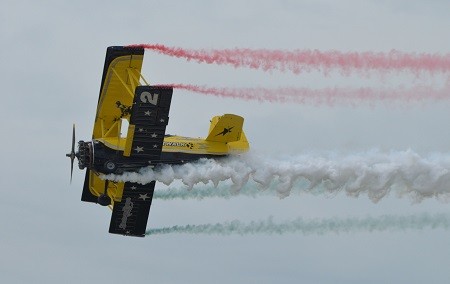 ERA – proud partner of acrobatic shows SIAF and CIAF
Sliač, August 30th and Hradec Králové, September 6th, 2014 The last weekend in August and the first weekend in September ERA representatives took part of two air shows the company subsidizes. ERA traditionally became a partner of SIAF (Slovak International Air Fest) held at Sliač military airbase. This year the company also supported its "twin event" CIAF (Czech International Air Fest).
The main programme of the SIAF air festival involved professionals from 12 countries presenting historical and modern airplanes and acrobatic tricks by well-trained pilots to the public. The most applauded performances were those by wing L-39 Baltic Bees from Latvia, Czech and Hungarian Jas39-Gripen, Turkish Phantom and the celebrated Slovak a Czech teams Retro Sky Team, Flying Bulls and Orava Shepherds.
At CIAF the observers had opportunity to adore the performances by acrobatic Belgian group Red Devils, Royal Jordanian Falcons and Swedish Catwalk with acrobats actually walking on aircraft wings. The German Eurofighter Typhoon was placed on static display. There was also one "derniére" - the Flying Bulls at CIAF presented the last time the machine Zlin Z-50LX.