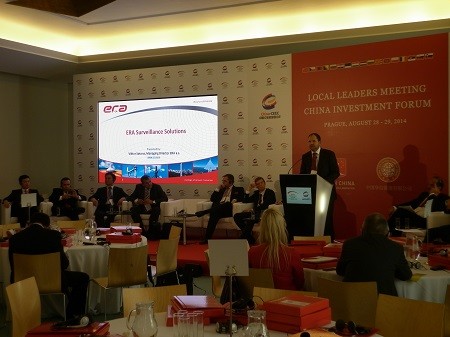 ERA representatives took part in China Investment Forum in Prague
Prague, August 28th – 29th, 2014 ERA Managing Director Viktor Sotona and sales manager Jan Hodinka, expert for Chinese territory, participated in China Investment Forum (CIF) in Prague. Mr. Sotona held a speech and presented the ERA Company to the partakers of panel discussion in section Transportation and Aviation. There were present hundreds of registered participants and guests of sound organizations and business bodies from China, the Czech Republic and many other European countries.
The main ambition of CIF 2014 and the Local Leaders meeting (LLM) 2014 was to be historically important milestone on the way to developing mutual cooperation on all levels between the People's Republic of China and Central and Eastern European Countries.
The event was organized under auspices of the President of the Czech Republic Miloš Zeman and the Prime Minister of the Czech Republic Bohuslav Sobotka. The official delegation of the People's Republic of China was led by Mr. Zhang Gaoli, the Vice-Premier of the State Council of the People's Republic of China accompanied by the Minister of Transport of the PRC government Mr. Yang Chuantang.
The CIF was attended by more than 300 entrepreneurs specialized in all areas of Czech-Chinese and CEE-Chinese cooperation. Among the guests were the most senior representatives of giant Chinese corporations and companies.
Fourteen CEE countries and their regional governments took part in CIF & LLM. Some autonomous regions had their business delegation as well and all together, CEE countries were represented by almost 200 politicians and businessmen.