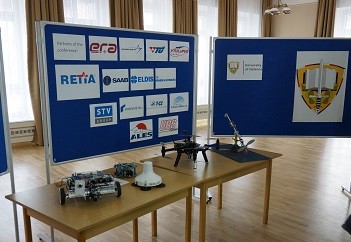 ERA's long-term partner, the University of Defence, organized the conference PVO 2015 in Brno
Brno, April 22th – 23th, 2015 ERA Company traditionally supported the PVO 2015 conference in Brno at the end of April. The 16th year of the event was organised by the Department of Air Defence Systems at the club of the Faculty of Military Technology of the University of Defence. The main topic was the interoperability of air defence systems.
ERA participated as one of the partners along with other prominent producers of defence and security technologies such as Lockheed Martin, Saab, ELDIS and Retia. The marketing activities comprised a showreel video presentation introducing the latest passive radiolocation technology MSPSR and the distribution of company portfolio collaterals.
The Department of AD Systems makes up one of the research/teaching work centres of the Faculty of Military Technology. It is tasked with preparing university-graduate specialists of Air Defence Troops for the combat utilization of weapon systems and Air Defence units, using automated command and control systems.