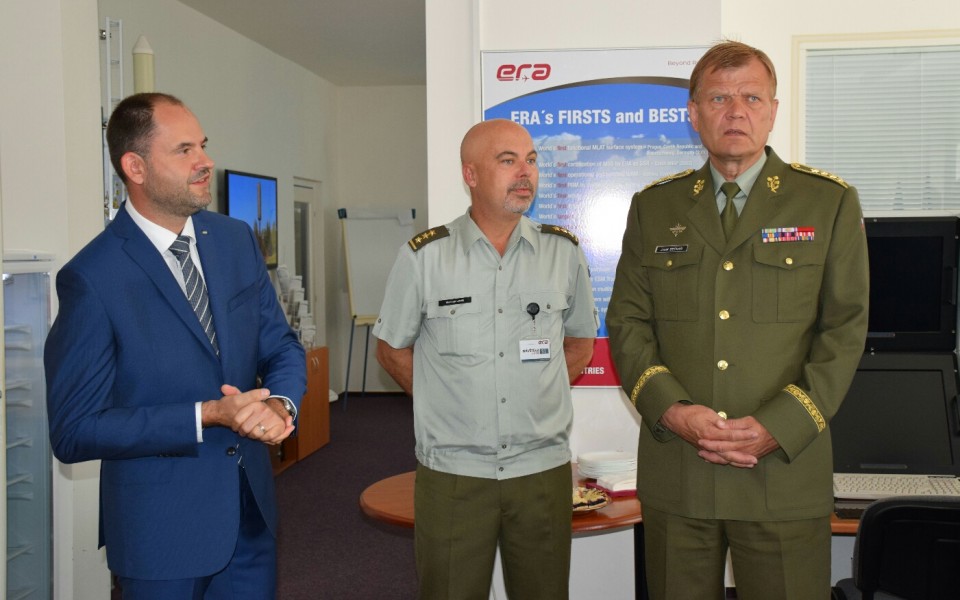 General Josef Bečvář, the Chief of the General Staff of the Czech Armed Forces, visited ERA headquarters
A delegation of Czech Armed Forces officials visited the ERA premises in Pardubice in the last week of August. General Josef Bečvář, the Chief of the General Staff, his adjutant Major Karel Strejc and Colonel Vladimír Lang, Electronic Warfare specialist, travelled to Pardubice to meet ERA managers and explore possibilities to broaden long-term cooperation with ERA – remarkable defence and security technology producer.
The Chief of the General Staff and his entourage were welcomed by the ERA Managing Director Viktor Sotona and Commercial Director Ondřej Chlost in Pardubice headquarters. The programme began with a short introduction to ERA Company and those of its products suitable for defence purposes. Mention was made of ERA's latest achievements such as the NATO contract. There was also a guided tour of the ERA premises and a brief discussion on schooling, training, research & development and other forms of collaboration between the ERA and Czech Army experts.
"The cooperation of our company with The Czech Armed Forces, which have been using our surveillance system for decades, is the best reference for our potential customers and we highly appreciate it," started Viktor Sotona, ERA Managing Director.
Josef Bečvář and other guests displayed a serious interest in the capabilities of VERA-NG such as identifying targets, low energy consumption and possible performance under harsh climate conditions. As part of the guided "sightseeing" tour around the facilities, the guests observed the actual process of assembling VERA -NG antennas before shipping them to ERA's most recent customers.
"We recognize ERA as reliable long-term partner of Czech Army. Passive surveillance systém VERA is one of the key parts of national air defence," stated General Josef Bečvář.
General Josef Bečvář (born 11 August 1958) is a Czech army officer. He graduated from the Military Academy in Brno including postgraduate study in command-staff, his specialty is rocket troops and artillery. He is the current Chief of the General Staff of the Armed Forces of the Czech Republic. Bečvář has been established in May 2015 when he succeed Petr Pavel.
Photos: Major Denisa Vernerova, PR Departement, General Staff of the Armed Forces of the Czech Republic