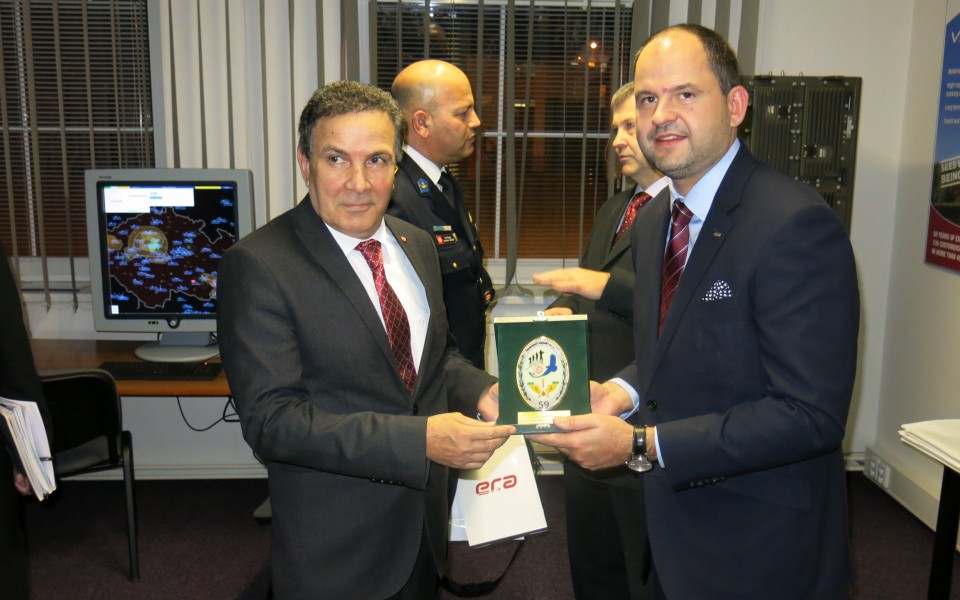 Mr Farhat Horchani, the Minister of Defence of Tunisia, visited the ERA headquarters in Pardubice
An official delegation of Tunisia visited the ERA headquarters in Pardubice at the end of December. Minister of National Defence of the Republic of Tunisia Farhat Horchani, General Zouhayer Jedidi, Deputy Chief of the General Staff of the Tunisian Air Force, and Colonel Mohamed Ben Salah, Division Director of the General Staff of the Tunisia Ground Forces, visited the Czech Republic to seek out possibilities for future cooperation with Czech Armed Forces and exporters of defence and security equipment. Besides the events organized by the Czech Ministry of Defence in Prague, they flew to the Pardubice airport to pay a short visit to ERA Company.
In Pardubice the minister´s entourage including Mohamed Sélim Hammami, Ambassador of the Republic of Tunisia in the Czech Republic, was welcomed by the ERA Managing Director Viktor Sotona and Sales Director Ondřej Chlost. The programme began with a short introduction to ERA Company and those of its products suitable for defence purposes. Mention was made of ERA's latest achievements such as the NATO contract. It also consisted of a live demo of ERA systems such as PET VERA-NG (Passive ESM Tracker) and MSPSR (Multistatic Primary Surveillance Radar). The guests displayed a serious interest in the capabilities of VERA-NG such as identifying targets, low energy consumption and possible performance under harsh climate circumstances.
The representatives of other producers seated in Pardubice region were also present: the sales representatives of companies Retia and URC Systems introduced their portfolio to the guests.
While visiting the Czech Republic the Tunisian delegation visited company producing air crafts Aero Vodochody. Representatives of Aero informed them about current state of the running project of jet engine overhauls for Tunisian L-59. They also presented project L-39NG, new generation of legendary jet trainer.
Mr Farhat Horchani, since February 2015 Tunisian Minister of National Defence, is jurist and university professor of public law, which he studied in Dijon, France. He is also a former judge at the Investment Arab Court and a member of the Tunisian Group at International Arbitrage Court for the International Chamber of Commerce, Paris.