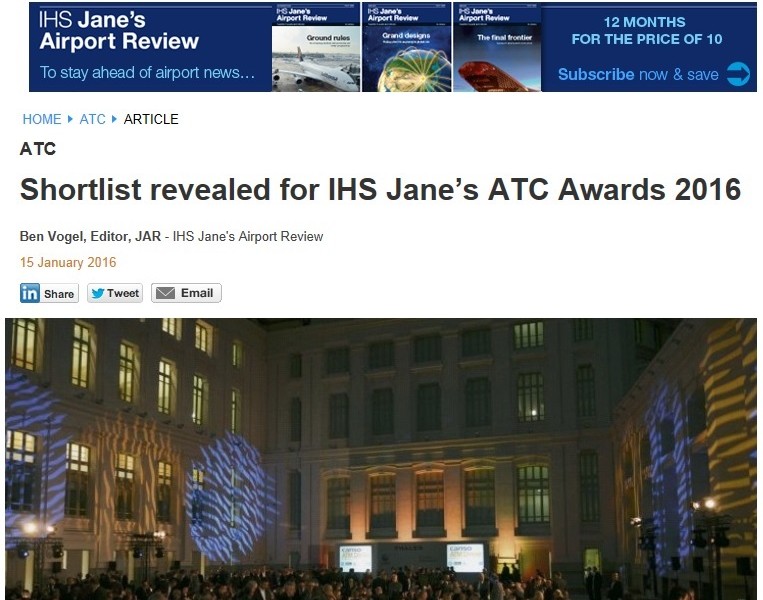 SQUID has been shortlisted for IHS Jane's ATC Awards 2016
Nominations for the IHS Jane's ATC Awards 2016 - in recognition of excellence in ATC and ATM industries - have been recently introduced to all CANSO members. ERA´s product, squitter beacon SQUID, passed successfully the first round and is on the short list of serious candidates for the prize. The winners will be recognized within the celebration at World ATM Congress in Madrid, in March.
More on http://www.ihsairport360.com/article/7367/shortlist-revealed-for-ihs-jane-s-atc-awards-2016
The awards recognise outstanding contributions in 2015 in all areas of the ATM industry, whether it's national air navigation service providers, large-scale partnerships, new entrants to the sector or others.
2016 Award Categories
Environment: To recognise work on 'green' air traffic management concepts
Enabling Technology: For contribution to enhanced capacity and safety
Service Provision: For contribution to safe and efficient airspace management
Technology: Reflecting a significant contribution by equipment suppliers
Innovation: For small enterprises that have raised ATM performance
Runway: For safety and efficiency on the runway and final approach