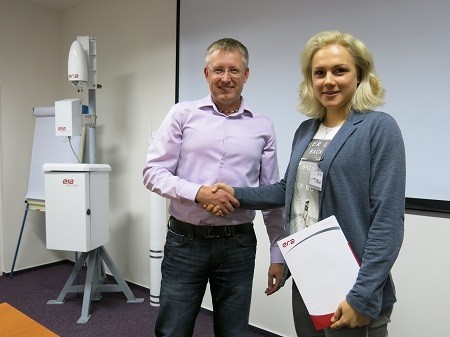 Talented speed skater has signed a contract of partnership with ERA for yet another season
Pardubice, October 29th, 2015 ERA is proud to announce that they have signed a new contract of support to promising speed skater Karolina Erbanova for the second year. Last season Karolina has enjoyed immense success – taking part in all of the 2014 World Cup races she won two bronze medals (World Championship) and other remarkable places ranking from4th to 6th.
She started her sport career as middle track skater but later has specialised in sprints. She used to be a member of the Czech NOVIS Team with her friend Martina Sablikova and couch Petr Novak, but from last spring on she has been training with the Holland Continu team in Heerenveen, the Netherlands. Her decision makes sense since this country is generally considered to be "Mekka" of speed skating. This sport is very popular among Dutch people – along with track cycling and football.
Now she is back in full training programme for the upcoming season getting ready for World Cup races in Calgary, Canada, Salt Lake City, US, and several others organized in the Netherlands and Germany. According her own words Karolina´s other, non-sport goals are graduating from the secondary school in the Czech Republic and improving her Dutch. She has to - her Heerenveen team colleagues speak three languages: English, Dutch and Frisian.