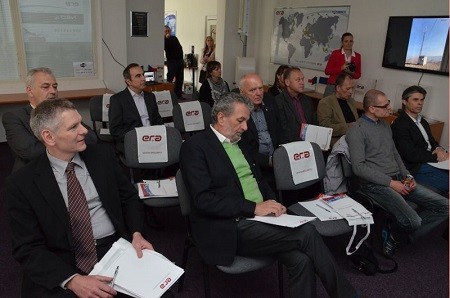 The deputies of the Czech Parliament visited ERA Company
Pardubice, April 10th, 2014 Members of the Czech Parliament Defence Committee visited ERA headquarters at the beginning of April. The main goal of the visit was the introduction of alternative radiolocation methods by ERA experts, a presentation of the ERA military solutions portfolio and a tour of the ERA premises. Over a several-hour programme, parliamentarians were introduced to the history of passive systems of Czech origin demonstrating the long term usage of the PET system known as the 5th generation VERA-NG.
The crew of the Silent Guard demonstrator provided a presentation and live demonstration of PCL (Passive Coherent Location) as well as MSPSR passive (Multistatic Primary Surveillance Radar) technology. This system uses commercial broadcast transmitters such as FM and DVB-T (Digital Video Broadcast – Terrestrial) which unwittingly provide the electromagnetic energy necessary to detect targets.
In addition, the ERA Managing Director Viktor Sotona held a commented "sightseeing" tour around the company facilities and the guests observed the packing process for an international military exercise in Norway which ERA is about to join in the middle of May.
The politicians were pleased to hear about ERA's latest achievements such as the nationwide airspace coverage of Namibia or the "all weather conditions" system working in the mountainous terrains of New Zealand, which clearly demonstrate the fact that ERA over the last two decades has sold its systems all over the world and has become a pioneer and world leader in multilateration technology and its usage for ATM.
"The visit to your company has convinced us that the Czech industry actually has something to offer to the world of technology and in some fields can actually even star as a leader," stated Jiří Skalický, the Pardubice region deputy and member of the Parliament Defence Committee.