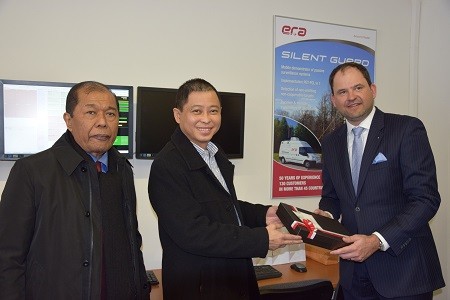 The Indonesian Minister of Transportation visited ERA headquarters
Pardubice, March 9th, 2015 The Indonesian Minister of Transportation Ignasius Jonan accompanied by the Indonesian Ambassador to the Czech Republic Aulia Aman Rachman and the Ambassador to Poland Peter F. Gontha visited ERA headquarters in Pardubice last week. Several CEOs of the Indonesian state owning companies such as AirNav Indonesia or Garuda Airlines were also present.
The programme for the minister's delegation consisting of 35 visitors began with a short introduction to ERA Company and its civil products portfolio provided by the Managing Director Viktor Sotona. Mention was made of ERA's surface management system deployed at Soekarno Hatta International Airport in the Indonesian capital of Jakarta which is celebrating its first year of flawless operation this March. The presentation was followed by a live demo of the ERA systems and a guided tour of the ERA premises.
The Indonesian guests, particularly the air traffic experts, displayed a serious interest in the capabilities of ERA multilateration systems and their ability to secure reliable and cost effective surveillance of aircraft movement on the ground and within the airspace in the vicinity which brings increased safety to airports. As part of the guided "sightseeing" tour around the facilities, the guests witnessed the actual process of assembling MLAT CPS and antennas before shipping them to ERA's most recent customers.
His Excellence Ignasius Jonan, currently Indonesian Minister of Transportation, is a 51 year old politician, who joined the newly established Indonesian cabinet in October 2014. Formerly an investment banker at Citigroup, he ran Indonesia's national rail company as chief executive over the past five years.
Soekarno-Hatta International Airport is the main airport serving the greater Jakarta area on the island of Java, Indonesia. The airport is named after the first President of Indonesia, Soekarno, and the first vice-president, Mohammad Hatta. Soekarno-Hatta airport is worldwide ranked no. 12 according to passenger traffic with 52 million passengers and approximately 500,000 aircraft movements per year. The entire Indonesian airspace is larger than the airspace over all of Europe.