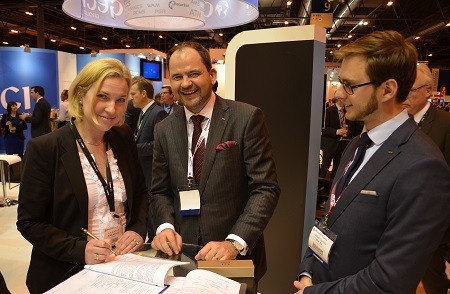 ERA will provide the modernization of its surface system at the Budapest Airport
Madrid, Spain, March 13th, 2015 ERA has been awarded a contract to modernize its multilateration surface system at Budapest Liszt Ferenc International Airport. This contract forms an integral part of the Remote Tower (rTWR) project recently awarded to Indra Navia by Hungarian Air Navigation Services Provider (ANS).
HungaroControl has launched its "virtual" tower implementation project that will provide location independent aerodrome control service. As a part of this rTWR project ERA will upgrade its multilateration ground surveillance system, a mandatory component for A-SMGCS systems.
"ERA participation in this project is an important moment for us and we consider it a privilege to be part of the rTWR implementation for HungaroControl. The concept of the remote towers is being intensively discussed in the ATM community and we are pleased that our long-term customer, Hungarian ANS has regarded multilateration as an essential component of its new rTWR project," stated ERA Managing Director Viktor Sotona.
The rTWR project represents a complete upgrade of the Indra Navia Advanced Surface Movement Guidance and Control System (A-SMGCS) delivered to Budapest Airport and its integration with the camera system provided by Canadian company Searidge Technologies. Indra Navia leads an integration of a complex rTWR project for HungaroControl which should be completed by March 2016.
ERA will provide HungaroControl with completely new Central Processing Unit, which is a heart of the multilateration system performing signal possessing from remote MLAT sensors as well as comprehensive management and control of the system, and an upgrade of remote sensors. The customer will take benefit of higher availability and increased robustness of the system, naturally reliable thanks to its unique ERA system design. Such systems have been delivered to major international airports such as Beijing, Kuala Lumpur, Jakarta, Auckland, Madrid, Hamburg and many other hubs of air transportation.
On Budapest Airport
Budapest Ferenc Liszt International Airport, formerly known as Budapest Ferihegy Airport is an international airport serving the Hungarian capital city of Budapest and is by far the largest of the country's four commercial airports. The airport serves as a base for Ryanair and Wizz Air and served 9 million passengers in 2014, a 7.5% increase from 2013.
HungaroControl is the air navigation services provider of Hungary, and since 2014, the company has been responsible for providing air navigation services in the upper airspace over Kosovo as well.