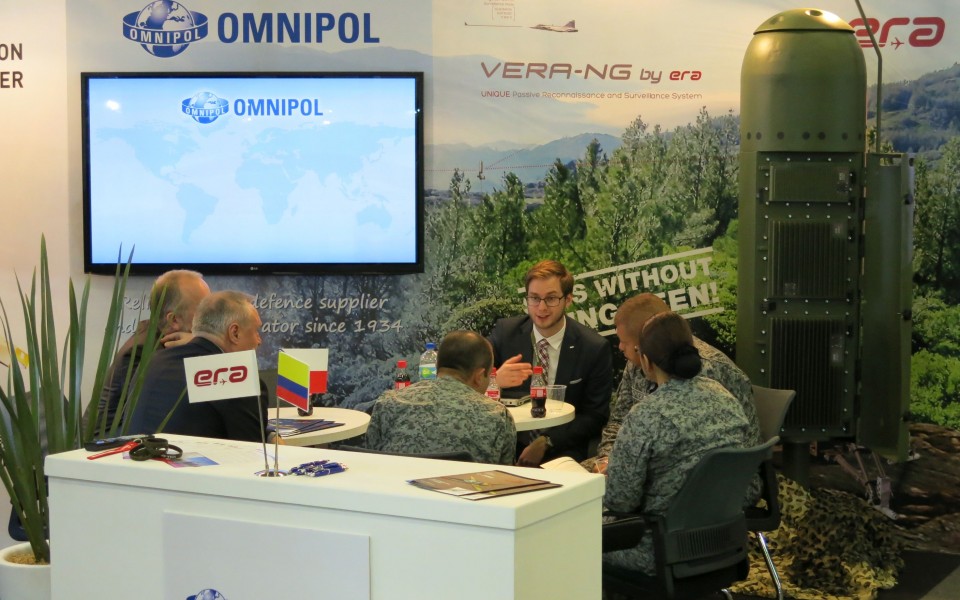 VERA-NG - "a Star" from Central Europe shone on the Western Hemisphere of the Globe
Bogota, December 4th, 2015 ERA has presented its passive surveillance system VERA-NG at Expodefensa, the most significant trade fair of defence and security technologies in South America, in the Colombian capital of Bogota.
ERA introduced its product portfolio of military solutions to visitors to the Czech pavilion as part of the group exhibition prepared in cooperation with the institution of Czech Trade and the Czech Embassy in Bogota. Officials of the armed forces of several South American countries were greatly interested in the Passive ESM Tracker VERA by ERA and its performance. They expressed their admiration of VERA´s extraordinary abilities to detect and provide identification of air-born targets, which make the system an essential part of any modern air defence tactical capabilities at present.
The Czech team at the Bogota trade fair consists of eleven participants, primarily individuals from defence industry companies, including ERA's owner Omnipol. Omnipol and the well-known aircraft producer AERO Vodochody have brought the attention of current decision makers to the project of the brand new Czech training fighter L-39NG.
"Colombia and South America in general hold great potential for Czech industrial companies. In fact it has the fourth largest share of the commercial market in both Americas. It is very specific, however, with huge competition. They have to offer unique products of top quality and complete assurance services for reasonable prices in order to succeed here. The key factor is no doubt the presence of sales representatives in situ since the very beginning of the planned acquisition," officially stated Miloš Sklenka, the Czech Ambassador to Colombia.