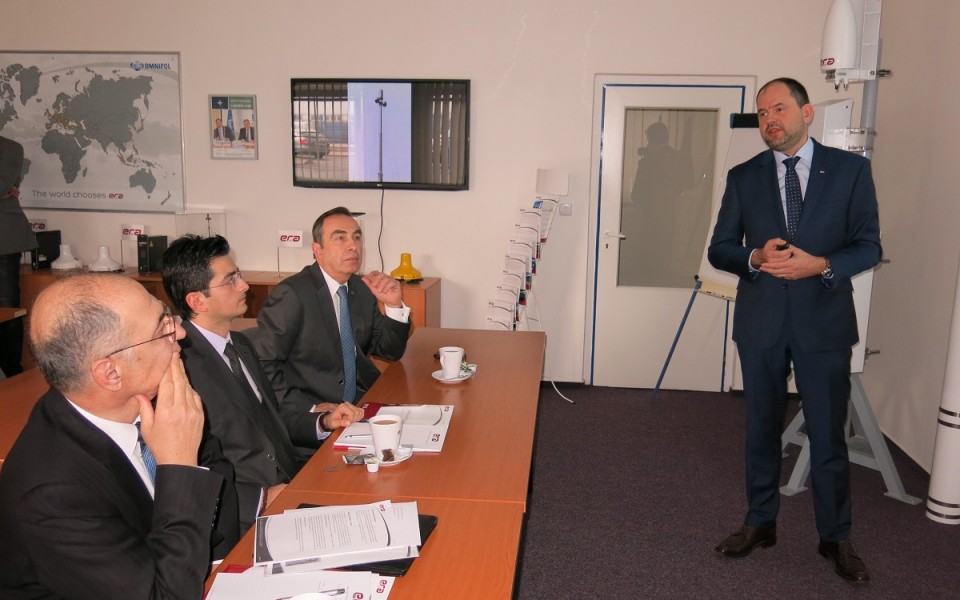 Ahmet Necati Bigali, the Ambassador of Turkey to the Czech Republic, visited ERA headquarters
A delegation of Turkish Embassy officials visited the ERA premises in Pardubice in February. Ahmet Necati Bigali, the Ambassador of Turkey in Prague, accompanied by Jiří Skalický, deputy of the Czech Parliament, travelled to the towns of Pardubice and Přelouč to meet managers of several companies and thus explore possibilities for future cooperation with Czech defence and security technology producers.
The ambassador was welcomed in Pardubice by the ERA Managing Director Viktor Sotona and the Marketing Manager Milan Starý. The programme began with a short introduction to ERA Company and its portfolio of products suitable for defence purposes as well as civil usage. Mention was made of ERA's best achievements such as the NATO contract for delivery of two military VERA-NG systems and civil surface surveillance systems deployed at several Turkish airports: Istanbul, Ankara and Antalya.
There was a live demo of the ERA systems PET VERA (Passive ESM Tracker) and PAR (Precision Approach Radar) on consoles and a guided tour of the ERA premises. The guests displayed a serious interest in the capabilities of VERA-NG, its ELINT library and performance in covert mode. As part of the guided "sightseeing" tour around the facilities, the guests observed the actual process of assembling antennas and CPS before shipping them to several customers and the entire military system placed on a 25-metre-high mobile mast.
The ambassador's entourage also visited other defence and security companies in the region: Retia, SVOS and Excalibur. "Mr Bigali viewed his visit to the local companies as satisfactory and found their products potentially interesting for the Turkish industry. I myself appreciated the personal contacts and recommendations to the Ministry of Defence of Turkey which the ambassador provided and the Czech managers could use in future cooperation with Turkey," stated Jiří Skalický, the parliament deputy for the Pardubice region.