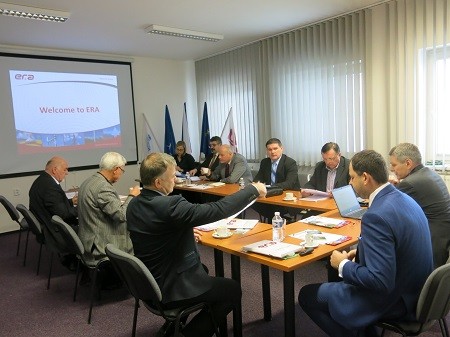 DSIA held its regular gathering in ERA residency
Pardubice, 10 February 2015 Officials of the Defence and Security Industry Association (DSIA) organized their latest meeting in Pardubice in order to pay tribute to ERA Company, one of the long-term DSIA members. The primary goal of the visit was the introduction of passive radiolocation methods and a presentation of the ERA military solutions portfolio to other respected DSIA members – military equipment suppliers and vendors. The presentation and guided tour of the ERA premises was part of the DSIA regular meeting, usually held every other month. During these meetings the participants discuss general issues related to the defence industry.
Guests such as representatives of the DSIA Presidium Jaroslav Pecháček, Jaroslav Trávníček and Radek Hauerland, led by the DSIA president Jiří Hynek, were the most interested in passive radiolocation technologies, such as Passive ESM Tracker (PET), Precision Approach Radar (PAR) and the Multistatic Primary Surveillance Radar (MSPSR) systems developed by ERA, which can be deployed as a progressive part of air defence forces. The official programme began with a briefing by ERA Managing Director Viktor Sotona on ERA Company and its products suitable for defence and security purposes. After live demos of the tracking performance of PET VERA-NG and PAR on presentation consoles, the DSIA meeting participants asked for details concerning the system's principal, capability and reliability.
"The visit was definitely worth traveling here. I personally consider ERA a top class technological company in the Czech Republic, especially in term of being the first one awarded a NATO contract," statedJiří Hynek.
On DSIA
The Defence and Security Industry Association of the Czech Republic associates 105 Czech companies engaged in research, development, production, trade and marketing of military and security equipment, material and services. Since its foundation in 1997 it has been a partner of the Czech Government, the Ministries of Industry and Trade, Defence, Interior and Foreign Affairs.