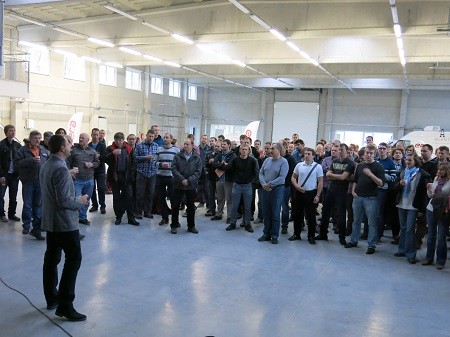 ERA Company expands with new facilities, employees and customers
Pardubice, January 14, 2015 The Czech company ERA, a traditional worldwide supplier of passive radiolocation technologies, has crowned a year of unprecedented growth. ERA has built a large dispatch hall on its premises, opened new R&D branch offices in two major cities and hired several dozen new employees, mostly technicians. This is due to recently signed contracts to fulfil commitments to its customers. ERA exports its products to 55 countries at present, six new ones was added to the fast growing list of partners within the last year.
"We consolidated our team, especially by employing R&D experts, who will work on enhancements and upgrades of ERA multilateration systems for our partners on five continents," stated ERA Managing Director Viktor Sotona.
The new expedition hall was built on the grounds of the ERA headquarters in order to have a spacious place for preparing ATM products for shipping and testing the abilities of the air defence systems including mobile components such as containers, masts and vehicles. The company also has opened branch offices in cities where two best Czech technical universities are located in hopes of future recruitment of desired specialists. One branch is located in the seat of Omnipol Group in Prague and one in the building of Technology Innovation Transfer Chamber in Brno.
"The newly opened scientific Technology Innovation Transfer Chamber (TITC) connects the academic community with technology focused commercial subjects and strengthens interregional cooperation in research and innovations. The opening of the new ERA branch office in TITC in Brno as of January 1st serves as a good example," stated the Director of the Regional Chamber of Commerce Petr Kostík.